M5/M6 link road through Black Country among ideas to cut congestion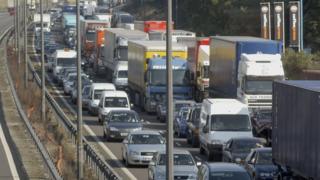 A relief road through the Black Country linking the M5 and M6 is among recommendations being made to ease traffic congestion in the Midlands.
A 20-year plan has been unveiled by pan-regional transport partnership Midlands Connect.
Its report suggests building a Western Strategic Route linking the two motorways, was well as widening parts of the M42.
Ten options, including long and short-term plans, have been put forward.
The report said the Western Strategic Route could "shift around 20% of traffic travelling through the region from the M6 in the north and M5 in the south away from the motorways".
Improving connections between Dudley, Stourbridge and Wolverhampton could have a "transformational impact on the economic performance of the Black Country", the report said.
An exact route has not been identified but Birmingham Friends of the Earth (FoE) described it as the revival of the Western Orbital Motorway, which was proposed in a similar location but scrapped in the 90s.
An FoE spokesman urged Midlands Connect to reconsider its plans, adding the "zombie Western Orbital Motorway will destroy greenbelt land and worsen traffic congestion and air pollution".
The report has been compiled with Highways England which said a long-term vision was needed.
Network planning director Jeremy Bloom said: "Clearly this won't happen overnight but this report provides us with the foundation to plan improvements over the next two decades.
"We are committed to working closely with Midlands Connect to make this a reality."
Recommendations in the report are:
Widening the M42 from junction 3A to junction seven
Creating an A46 Expressway
Further enhancements at M42 junction six
Targeted improvements at M6 junctions two, three and four
Estimated time savings signs on the M6 to encourage better use of the M6 Toll
Identifying opportunities for a park and ride scheme as an alternative to short motorway journeys
Installing traffic lights on the M5 at junctions one and two
Developing a smart motorway on M6 from the M1 to junction two