Family's £15k debt from fight against Section 322(5) immigration rule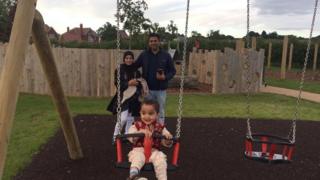 A family say they have been left £15,000 in debt, without passports and unable to register their son as British because of the Home Office's actions.
The Bristol couple are among 1,000 highly-skilled migrants said to be facing deportation because of how the government has applied immigration law.
Home Secretary Sajid Javid has ordered a review into use of Section 322(5).
The rule can see people refused the right to stay in the UK and has been enforced over minor tax infringements.
Critical MPs and legal experts have branded its use "malevolent" and a "miscarriage of justice."
Roofi and Aamir Wani, from Easton, applied for indefinite leave to remain (ILR) in May 2016.
Originally from Kashmir, Mr Wani is a senior sales consultant who has been working in the UK legally for 11 years.
He applied under an older "general route" but was rejected under new legislation for filing a late tax return in 2011.
The Highly Skilled Migrants group suggests there have been at least 1,000 similar cases.
What is paragraph 322(5)?
The controversial rule is designed to be used on a discretionary basis, for example in cases involving "criminality, a threat to national security, war crimes or travel bans".
But there are concerns it has been misused by the Home Office in applications where people have made minor and legal amendments to historic tax returns.
Many of the applicants have applied for ILR via the Tier 1 route, which closed in 2015.
The Home Office says the system was abused and a significant number of applicants reported different figures to it and HMRC just to meet the rules.
A review is continuing.
Many of the affected families are fighting their cases in the courts while they have no right to work or rent.
An appeal judge said Mr Wani was of "exemplary character" but the family have not had their 19-month-old son Hammad's birth certificate, their passports or documents returned.
The Home Office promised to return the paperwork after the BBC intervened, but the couple is yet to receive it.
Mrs Wani, who has a PhD in biochemistry and has worked as a senior research scientist, said the situation had been "awful".
"It is a deliberate policy to make it so difficult for immigrants that they want to leave," she said.
The family cannot travel without passports or visas and said they were "extremely stressed" about the debt that built up while they were banned from working.
MPs raised the issue in parliament last week amid concerns the rule was still being used.
The BBC has spoken to a dozen people affected, including Nisha Mohite, from Daventry in Northamptonshire, who has been in the UK for eight years developing anti-cancer drugs but had her ILR turned down because of a minor tax discrepancy from 2010.
She is seeking a judicial review.
Father-of-two Owais Raja, from Pakistan, says he can no longer pay his rent nor the medical bills of his six-year-old son, who has a hole in the heart, and his wife who has a pulmonary embolism.
He was training MoD engineers in Plymouth until his accountant made an error and was later jailed for fraud. Mr Raja and his family are facing deportation.
SNP MP Alison Thewliss said these cases showed a "calculated decision" by the Home Office.
She said: "Policies like this have no place in modern society - indeed, this scandal is akin to Windrush part two."
A Home Office spokeswoman said: "A review into earnings-related Tier 1 route cases was commissioned immediately following the Immigration Minister's appearance at HASC last month and is ongoing.
"We are continuing to defend refusals in court where we consider that the decision was correct, and it has been checked under the terms of the review."