Paul Massey and John Kinsella: Gangland murder charge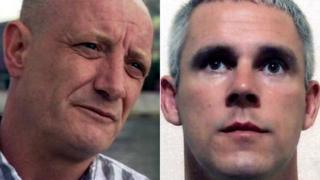 A second man has been charged with the murders of gangland figures Paul Massey and John Kinsella.
Steven Boyle, 35, of Sandiway, Heywood, is due to appear before Liverpool Magistrates' Court on Tuesday charged with two counts of murder and one count of attempted murder.
Paul Massey, 55, was shot as he got out of a car in 2015 while John Kinsella was killed on 5 May.
Police have also charged Mark Fellows, 37, with the murders.
Fellows has been remanded in custody and is due to appear at Liverpool Crown Court on 5 June.
Massey, 55, was shot five times as he got out of a car outside his home on 26 July 2015.
A security boss and businessman, he was a convicted criminal once branded "Mr Big".
Kinsella died after being shot by a man on a bicycle while he and his partner were walking their dog on 5 May.
She was shot as she fled the scene at the St Helens Linkway near the M62 in Merseyside.
Kinsella had been described as a mob fixer who once stopped a gangster threatening former Liverpool footballer Steven Gerrard.