Wheelchair access on some TransPennine Express trains 'disgraceful', says union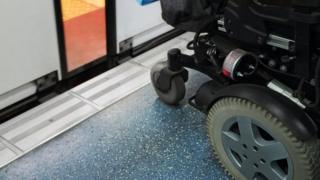 The reintroduction of trains which are inaccessible for wheelchair users on a major route in northern England "is disgraceful", a union has said.
TransPennine Express (TPE) is to start using the 45-year-old Mark III trains on its Liverpool to Scarborough route from July.
The RMT said TPE was "ripping up the anti-discrimination legislation".
TPE said it would use two trains on a temporary basis to provide extra seats before its new fleet arrives in autumn.
Documents leaked to the Disability News Service (DNS) show 12 of the 34 daily services - six in each direction travelling via Manchester, Huddersfield, Leeds and York - will have "no space on the train for wheelchairs" and the carriages will be "without wheelchair or cycle provision".
Mick Cash, general secretary of the RMT, said: "It is disgraceful that the government are giving TPE a free pass to rip up the anti-discrimination legislation and to turn the clock back on the basic issue of disabled access to our railways."
"It is a measure of the crisis on Britain's railways that rolling stock that went out of fashion while Slade were still in the charts is being wheeled out to try and plug gaps in services across the north."
A spokeswoman for TPE admitted the two trains - each comprising four carriages with "doors that need to be manually opened and closed" - did "not have adequate access".
They were being used "to support driver training ahead of the introduction of the first of our brand new Nova trains later this year", she said.
She said the situation "isn't ideal" but the operator was encouraging wheelchair users to book onto its accessible train services or would pay for a taxi to complete their journey.
The government has said all trains had to be "fully accessible by 2020".