Hospice referrals: North of England gives shortest time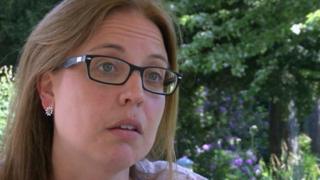 Terminally ill patients in the north of England get the least amount of end-of-life hospice care in the country, a report claims.
On average, patients in the North were referred to hospices 35 days before death compared to 55 days in the South, Midlands and East of England.
Co-author Mike Bennett said northern doctors and "stoic" patients may be reluctant to make or accept referrals.
The government said it was "dedicated to ending variation".
Researchers from the University of Leeds and palliative care charity Hospice UK said some adults with incurable conditions including dementia, liver failure and stroke were not receiving palliative care from hospices early enough.
"Stoic patients"
According to previous clinical trial research, patients with progressive diseases should be referred for palliative care between three and six months before they die to benefit fully.
However, hospices have limited control over the referrals they receive from other health services, which can lead to patients being referred late or not at all, the report said.
Referrals for hospice and palliative care are made by a variety of health and social care professionals including: GPs, hospital consultants, community nurse specialists and social workers.
The study, funded by the National Institute for Health Research (NIHR), saw researchers examine records from 42,000 people who died in 2015 with a progressive advanced disease and received community or palliative inpatient care.
Mr Bennett, professor of palliative medicine at the University of Leeds, said: "It could be that healthcare professionals in the north are more reluctant to refer until the very late stages.
"It may be that patients are reluctant to accept referrals as well, maybe more stoic.
"It could be that hospices aren't as well integrated potentially in the community as they might be, to encourage earlier access or to facilitate that."
Susanne White whose mother died at St Gemma's Hospice in Leeds at the end of an 18-month illness said the family wished they had known of hospice support earlier.
She said: "We found out when she was in hospital that she had two-to-three weeks to live and that's when we were told that we could access palliative care at St Gemma's and we would receive support at home. That was the first time that we'd found out.
"If we'd been told at the hospital, right at the beginning when she was first diagnosed, they'd have said, 'actually you can get this support now, because at the end of the day she wasn't going to live much longer than that'... then it would have been a good thing for me to get a bit more prepared."
End-of-life care includes palliative care which makes patients as comfortable as possible by managing pain and other distressing symptoms and support for a patient's family.
The research team defined the north of England according to NHS regional teams - Yorkshire and The Humber, the north west and north east of England.
Average number of days between referral and death
North of England: 35 days
South of England: 55 days
Midlands and East: 55 days
London area: 49 days
Source: University of Leeds/Hospice UK research
Dr Mike Stockton, the medical director of St Gemma's Hospice, said: "People are being referred into palliative care a little too late to gain maximum benefit from what palliative care can offer."
A Department of Health and Social Care spokesperson said: "Every patient has the right to a good death in a place of their choosing, with attentive, dignified and compassionate end of life care.
"However, hospices are not the only providers of palliative care and decisions around referrals will be based on clinical need.
"We remain dedicated to improving patient choice and ending variation."