Paul Massey and John Kinsella: Gangland deaths accused in court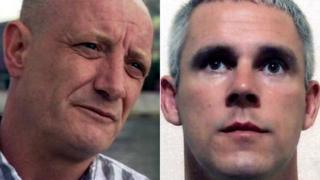 A man charged with the murders of an underworld "Mr Big" and a gangland enforcer has appeared in court amid a heavy police presence.
Mark Fellows is accused of killing Paul Massey, from Salford, and John Kinsella, from Liverpool.
The 37-year-old is also charged with the attempted murder of Kinsella's partner.
He has been remanded in custody and is due to appear at Liverpool Crown Court on 5 June.
Massey, 55, was shot dead as he got out of a car outside his home on 26 July 2015.
A security boss and businessman, he was a convicted criminal once branded "Mr Big".
Kinsella died after being shot by a man on a bicycle while he was walking his dog with his partner on 5 May.
She was shot as she fled the scene by the St Helens Linkway near the M62 in Merseyside.
Kinsella had been described as a mob fixer who once stopped a gangster terrorising former Liverpool FC footballer Steven Gerrard.
Fellows, dressed in grey jogging bottoms and a sweatshirt, spoke at South Sefton Magistrates' Court only to confirm his name, date of birth and address in Warrington, Cheshire.
He was arrested at Manchester Airport on Wednesday after a series of police raids.
About 20 friends and relatives of Kinsella watched the three-minute hearing from the public gallery.
Five other people arrested this week have been released under investigation.