Telford man 'unnecessarily' held in cell for days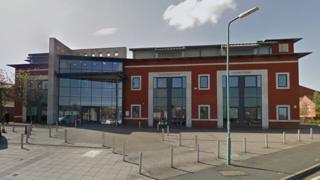 A solicitor says a "barmy" administration change saw his client held in cells for days for a matter that could have been sorted in hours.
The Shropshire man was arrested on suspicion of being drunk and disorderly on 17 May but he could not be taken to court until two days later.
Solicitors have said it is because remand cases from across West Mercia have been centralised to Kidderminster.
HM Courts and Tribunal Service (HMCTS) said it intended to review the changes.
Following a consultation, HMCTS ruled that from April all remand cases from Shropshire, Worcestershire and Herefordshire can only be heard in Kidderminster.
There is one daily transport from police stations to the court and solicitors said defendants are regularly held in cells because they miss the bus.
John McMillan, of WMB Law in Telford, said this drunk and disorderly case, which does not carry a jail term, could have been sorted within hours had it been heard at Telford Magistrates' Court.
"It is just so unnecessary," he said.
Concerns have been raised about the distances defendants face to get to and from the court.
'Complete farce'
Mr McMillan said there are also problems faced by defendants who need drug rehabilitation orders.
He claims the court in Kidderminster cannot arrange them for Shropshire defendants, so after the initial hearing they are bailed back to Telford's court for sentencing.
Describing it as a "magic roundabout", he said: "It is absolutely barmy."
Stephen Scully, from Shrewsbury's Lanyon Bowdler firm, said he has experienced similar problems with drug rehabilitation orders.
He added that local solicitors are looking at options to challenge the centralisation.
"The system is a complete and utter farce," he said.
A HMCTS spokesperson said: "It's always been our intention to review how these changes are working and an event later this month will provide key agencies and professional court users with the opportunity to share their views.
"We continue to work with them and other partners to resolve any concerns raised."