More arrests over Salford gangster Paul Massey murder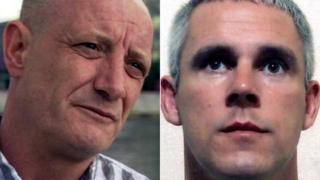 Detectives investigating the murder of notorious crime figure Paul Massey have arrested a further three people.
A man, 49, was arrested in Rochdale and a woman, 30, was arrested in Salford on Thursday on suspicion of conspiracy to murder Massey, who was shot dead in 2015.
A Salford woman, 35, was held on suspicion of perverting the course of justice.
Six people are being held over the murders of Massey and John Kinsella.
Three arrests were made on Wednesday in coordinated raids across the North West by Greater Manchester Police and Merseyside Police.
Masked gunman
It follows the death of Kinsella, an underworld enforcer, killed by a gunman on a bike as he walked with his partner on a footpath alongside the St Helens Linkway near the M62 in Merseyside on 5 May.
Massey, a security boss and businessman, was a convicted criminal once branded "Mr Big".
Massey was killed by a masked gunman wearing "military-style" clothes outside his Salford home on 26 July 2015.
Several witnesses saw the gunman approach the father of five at about 19:30 BST as he got out of his silver BMW at his home in Manchester Road.
During a 2008 trial, the father of former Liverpool player Steven Gerrard said in a letter that Kinsella was a fixer who stopped a gangster from threatening his son.
A man, 37, was arrested at Manchester Airport on suspicion of both murders.
A man aged 48 is being held on suspicion of conspiracy to murder Massey and a woman, 39, was arrested on suspicion of assisting an offender over the Kinsella murder, Greater Manchester Police said.
All six people remain in custody.