Great Northern, Southern, Thameslink and Northern trains cancelled and delayed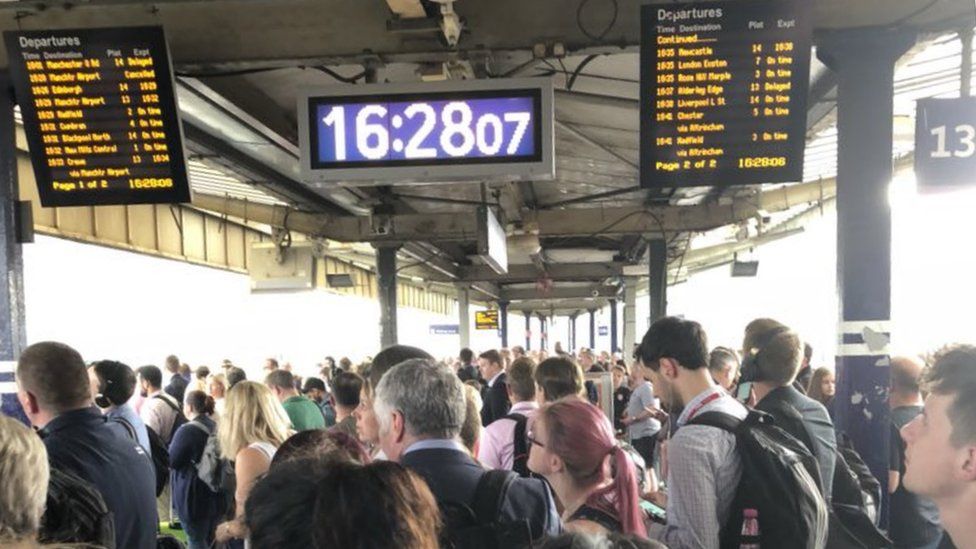 Rail passengers are facing further cancellations and delays on a day dubbed "Meltdown Monday" by unions after new timetables were introduced.
The rail firms apologised for the disruption, saying changes would result in extra services on the network.
The RMT union said there was "a hopeless lack of planning, combined with a shortage of crew and fleet".
Govia Thameslink Railway (GTR), which runs Great Northern, Thameslink and Southern, warned passengers to expect disruption over the next few days.
It has rescheduled every train since Sunday and a spokesman said it needed time to adapt, adding it was "unfortunate but unavoidable".
The operator saw 160 cancellations (7% of the schedule) and 213 delays (12%) by 16:30 BST on Monday.
Chief executive Charles Horton said: "There have been some teething problems... For anyone who has been caught up in the disruption, I'm sorry."
Meanwhile Northern passengers reported delays and cancellations as about 90% of its services also changed on Sunday.
It said a shortage of train drivers was to blame for problems affecting destinations such as Manchester, Liverpool and Newcastle.
A spokesman said it had been a "difficult morning" for some of its customers and it was "very sorry".
One in seven (14%) of Northern's services were cancelled on Monday morning, with a further 17% delayed by at least five minutes.
Mayor of Greater Manchester Andy Burnham said the situation was "appalling" and called on Transport Secretary Chris Grayling to intervene.
The RMT called it "Meltdown Monday" and said it should "spell the end of the privatised chaos on Britain's railways".
Anthony Smith, chief executive of passenger watchdog Transport Focus, said some Northern passengers "had a torrid time" and pledged to keep a "close eye on crowded services" run by GTR.
What do passengers think?
Frustrated passengers have been tweeting to complain about disruption on GTR services.
One said: "[The] 0528 from Haywards Heath was cancelled, and I believe it will continue to be cancelled until early June. Less than impressive start to the brave new world!"
Emily Ketchin, founder of campaign group Harpenden Thameslink Commuters, said: "We are actually losing a third of key services in the morning and we're also getting longer journey times.
"Even before the cuts it was a very overcrowded service... and it's going to get a lot more difficult."
Those using the Northern franchise used the hashtag #NorthernFail to express their displeasure.
3rd world conditions on #NorthernFail. Delays and cancellations all over the place. People packed on to the overcrowded services like sardines. Absolutely horrendous. How much longer are @northernassist and the other franchises going to get away with this?

— Liam (@liam_2912) May 21, 2018
Over 2 hours to get to work. Bus, train and 2 mike walk. Northern Rail humbug! Really looking forward to journey home😡#NorthernFail

— Susan Ramsdale (@FrazzledSusan) May 21, 2018
@northernassist what a joke on the new timetable this morning #Northernfail 07:30 Outwood train cancelled, 8:00 train couldn't fit everyone on. 8:24 was short carriages, couldn't get on. 8:32 was late.

— Claire Smith (@CMPSmith) May 21, 2018
At the scene: Tom Edwards, Transport Correspondent, BBC London
"Well that's a great start" mumbled a commuter to himself as the next train was cancelled.
I was at Harpenden this morning - a small commuter town in Hertfordshire. And it has been one of the areas most angry at these huge timetable changes. Here they're losing trains between 07:00 - 08:00.
This morning, in near silence, commuters wearily shook their heads as two services were cancelled. There were also delays.
It was met with a stoical bemused resignation. Some were confused at the new destinations. And when trains did arrive they were absolutely packed and standing room only.
It has been an extremely frustrating, difficult morning for the half million commuters who use these services. When I texted a friend to ask how his journey had been, he replied: "Useless."
Commuters will hope things start to improve quickly.
Why are there timetable changes?
GTR said it was rescheduling every train in its franchise in an attempt to improve rail efficiency in the South East.
It runs services to Bedford, Luton, Peterborough, King's Lynn, Cambridge, London King's Cross, London Moorgate, Wimbledon and Brighton.
The timetable changes would mean a 13% increase in services across the GTR network - 400 extra trains a day and new direct services from 80 stations into central London, creating space for 50,000 extra passengers at peak times.
Arriva Rail North Ltd, which runs the Northern franchise in the north of England, said its timetable changes would result in an extra 1,300 services added to the network.
It said 90% of the services would be affected by the changes.
How bad was the service before?
Four GTR services were among the 10 least punctual in Great Britain.
For the year to the end of April 2018, between one in four and one in five of their commuter trains were at least five minutes late arriving at their terminating stations.
Thameslink trains, the only GTR service which does not appear in the top 10 for delays, arrived on schedule about 86% of the time.
The public performance measure treats commuter services as late if they arrive at their terminating station five or more minutes after their scheduled time. For long distance services it is 10 minutes.
What do the rail operators say?
A GTR spokesman said: "Due to the scale and complexity of the task, these changes will be made incrementally.
"This involves redeploying drivers and trains and changing operating practices to achieve a large increase in the number of services, carriages and station stops."
It has called the new timetable "the biggest change to rail timetables in a generation" and said "we expect some disruption to services in the initial stages".
A spokesman for Northern also said the timetable change was the "biggest change to local rail for many years".
"This remains a significant operational challenge and we continue to expect some localised service disruption, which could happen at very short-notice.
"We are working hard to address the issues we faced this morning and are developing plans to help our customers get where they need to be this evening and for the rest of the week."
The RMT said it had reports from both Northern and GTR of a "hopeless lack of planning, combined with a shortage of crew and fleet, which has reduced the Monday morning journey to a nightmare for many passengers".
General secretary Mick Cash said: "It is our members dealing with the anger at the sharp end not the well-paid top brass from Arriva and Govia who are responsible for this Meltdown Monday on our railways.
"Both of these companies have sought to compromise safety and access by hacking back on critical staff and it is no surprise to RMT that they can't be trusted with the massive logistical challenges of bringing in new timetables."
The Aslef union said not enough drivers had been trained on new routes and rolling stock.
An official said the union had asked the company to start training drivers last summer, but it only started in February.
"It's very sad. We welcome investment, we welcome new routes and we welcome new timetables if they work but believe GTR do not know how to run a railway," he said.
Related Internet Links
The BBC is not responsible for the content of external sites.