Bill Longmore, former West Mercia PCC, dies at home in Shrewsbury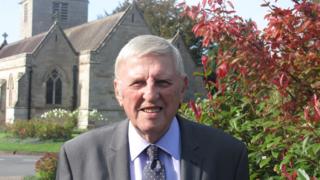 Bill Longmore, former Police and Crime Commissioner for West Mercia, has died.
The 79-year-old died peacefully at his home near Shrewsbury on Thursday following a long battle with cancer, his family has confirmed.
He was first diagnosed with lung cancer during a routine check in 2013, a year after he was elected. He underwent a second round of chemotherapy in 2015.
The former businessman, who also promoted sports in the community, retired after a single term in office.
After announcing further treatment, he said he would try to continue working "as I feel cancer, a plague in our society, is something we must fight."
His successor, John Campion, paid tribute by saying Mr Longmore dedicated much of his life to serving the public.
"Through his involvement in sport, business and other local groups Bill made a lot of friends and helped a lot of people," he said.
"The energy Bill brought to the PCC [Police and Crime Commissioner] role, particularly through the challenges he faced, was admirable and showed just how committed he was to making life better for the community around him.
"As such I am sure his loss will be felt by many people."
Dedication to sport
West Mercia Chief Constable Anthony Bangham said Mr Longmore served with the Staffordshire force for 30 years.
"What was always clear to me was his total commitment to serving the people to the very best of his ability and I know he will be sadly missed by many," he said.
In 2011 Mr Longmoreh was given a Midlands Unsung Hero award for his dedication to sport in the community of Hanwood, helping out with the women's football team and the bowls club.