Whitchurch man's 53-mile journey after case dismissed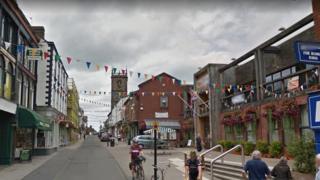 A Whitchurch man had a 53 mile (85km) journey home after being held on remand and then having his case dismissed.
His solicitor said he was held in cells overnight so his case could be heard at Kidderminster Magistrates Court.
Emma Lineton said it is another example of problems arising since remand cases from across West Mercia were centralised to Kidderminster.
HM Courts and Tribunal Service said it is working with criminal justice agencies to resolve any concerns.
Since April, all overnight remand cases from Shropshire, Worcestershire and Herefordshire can only be heard in Kidderminster.
There is one daily transport from police stations to the court and solicitors said they have seen defendants held in cells for up to 30 hours because they missed this bus.
One police station resorted to telling offenders that best time to hand themselves in is overnight to ensure cases are heard.
And a Telford man, wanted for failing to appear at court, tried to hand himself in four times before he was heard, his lawyer said.
Ms Lineton, from Hatchers in Shrewsbury, said her client was arrested and held in Shrewsbury Police Station after being accused of breaching a restraining order.
When he appeared at court the prosecution decided there was no case to answer.
After being taken to Kidderminster by police bus, he had to make his way home by a two-hour train journey, with two changes.
She added: "It is not an ideal situation when someone is convicted but when a person is innocent it is completely unnecessary."
Last week, Shropshire Defence Solicitors' Association wrote an open letter to the Justices of the Peace outlining their concerns over the changes.
Solicitors have also said they are looking into whether they can challenge the change.
HMCTS said more than £1bn is being invested to modernise the justice system and deliver swifter justice and better value for taxpayers.
"Following a public consultation, remand cases were moved from Telford to Kidderminster Magistrates' Court to improve listings and trial management at Telford," a spokesperson said.
"We continue to work with criminal justice agencies to resolve any concerns raised."