Dambuster George 'Johnny' Johnson at ceremony for RAF sculpture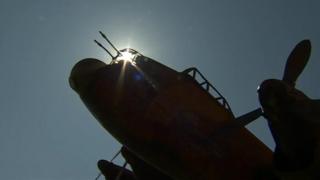 The last surviving British member of the Dambusters raid has led a groundbreaking ceremony for a full-size steel sculpture of a Lancaster bomber.
The tribute to RAF bomber crews who served in World War Two will stand near to the A46 on the Nottinghamshire / Lincolnshire border at Norton Disney.
Sq Ldr George "Johnny" Johnson and other veterans marked the start of the project on Tuesday afternoon.
He said there was no better site for the memorial.
"[There is no] better place to put it than in Lincolnshire, the 'Bomber County' in the war, with all those airfields so close to each other," the 96-year-old said.
"All the work that Bomber Command did, so much of it coming from Lincolnshire."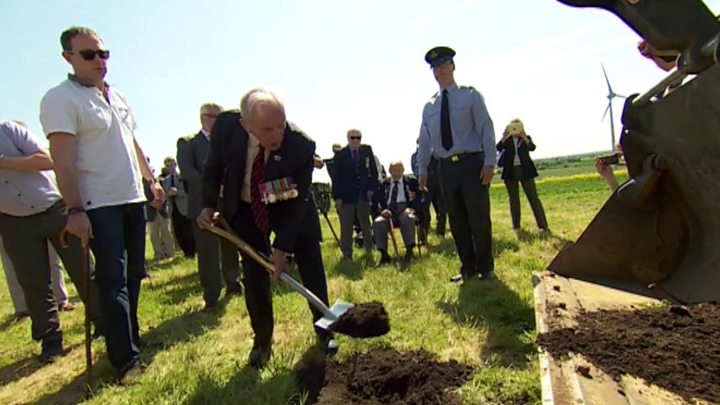 The sculpture will have a wingspan of 31m and will be mounted on a 10-12m stand.
The Bomber County Gateway Trust said it would reach a height of 30m (98ft) above the ground.
You might also like...
Ken Sadler, from the trust, said the trust had raised about £30,000, and needed £100,000.
"We're collecting steel from all the Bomber Command bases from around the country to incorporate that into the project to create that link," he said.
The trust hopes to have the memorial ready by Armistice Day in November.
The plans were granted planning permission by North Kesteven District Council.