Wanted Telford man 'tried to hand himself in four times'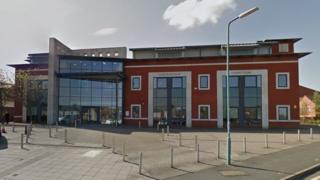 A man from Telford wanted for failing to appear at court tried to hand himself in four times before his case was heard, his lawyer said.
The case is an example of delays since remand cases from across the region were centralised at Kidderminster Magistrates' Court, say solicitors.
Some people are now waiting in cells for up to 30 hours to get to court, they said.
HM Courts and Tribunal Service has said there is "no evidence" of longer waits.
Since April, all overnight remand cases from Shropshire, Worcestershire and Herefordshire are only heard in Kidderminster.
One police station resorted to telling offenders the best time to hand themselves in to ensure cases are heard.
Since the changes, people can only hand themselves in at a certain time to ensure they catch the daily transport from police stations to Kidderminster Magistrates' Court.
John McMillan, of WMB Law in Telford, said the firm has seen defendants held in cells for up to 30 hours before they could be heard. Telford is 41km (26 miles) away from Kidderminster.
Last week, Shropshire Defence Solicitors' Association wrote an open letter to the Justices of the Peace outlining their concerns over the changes.
It said a magistrate has said some of his colleagues are refusing to travel to the court, because of the distance.
And the distance is also posing a problem for offenders and their relatives - some of whom might have to travel from the Wales/Shropshire border, a journey of an hour-and-a-half.
Case Study:
23 April - a 24-year-old is wanted for breaching a community order, given to him by the court on 26 January for a criminal damage offence
24 and 25 April - tried to hand himself in to police, but was told they hadn't received the warrant
26 and 30 April - tried to go to Telford Magistrates' Court but was told it could not hear the remand case.
1 May - he handed himself in to police at 09:00 BST but missed the daily transport to Kidderminster.
2 May - given a 10-week prison sentence after waiting in custody for 27 hours
(Source: Steven Meredith, WMB Law)
All overnight remand cases from across West Mercia were centralised at Kidderminster Magistrates' Court following a consultation by the courts and tribunal service.
It said the change was "to better utilise finite resources".
Stephen Scully, of Lanyon Bowdler Solicitors, in Shrewsbury, said advocates are looking at the legalities of the centralisation and whether it could be challenged.
"The system is in chaos," he added. "It is pot luck justice."
West Mercia Police said it would "encourage" offenders to hand themselves in at the earliest opportunity.