Free chocolates and confetti for royal wedding train goers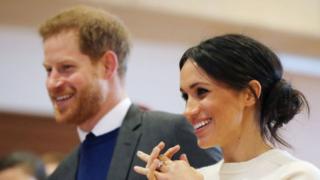 Sixty thousand chocolates and 1,000 boxes of confetti will be handed out to royal wedding train passengers when they alight at Windsor.
Great Western Railway (GWR) will give away the free goodies to "keep the party atmosphere going" for those travelling by rail on 19 May.
The network operator warned travellers should arrive early due to "very high demand" and "sizeable" queues.
It added it would also provide 10,000 free bottles of water.
The royal wedding of Prince Harry and Meghan Markle is expected to attract more than 100,000 visitors to Windsor, where the couple will marry.
Eight trains will all arrive at Slough train station between 08:00 GMT and 09:30 GMT, where they will board Windsor shuttle trains.
Rail travellers from London can use South Western Railway services from London Waterloo to Windsor and Eton Riverside.
Those travelling from the West, south Wales and the Cotswolds should change at Reading for services to Slough.