Sean Benton's Deepcut death 'caused by a series of failings'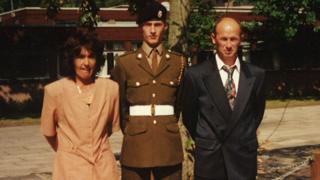 A series of failings cost army recruit Sean Benton his life, his family's barrister has told the inquest into his death.
Paul Greaney QC listed a catalogue of events that led to Pte Benton's death from bullet wounds at Deepcut Barracks in Surrey in 1995.
He urged coroner Peter Rook QC to deliver a narrative conclusion to examine all the causes, in the public interest and for the family's sake.
The verdict is expected next month.
Pte Benton was found with five bullets in his chest at the barracks in June 1995.
An earlier inquest ruled the 20-year-old killed himself.
The new hearing is being held in Woking following pressure from the soldier's family.
Mr Greaney told the court: "Sean was let down by a number of people and/or by the system."
He said it was "uncontroversial" that suicide should be considered as a verdict, but he said neglect also played a part.
Non-commissioned officers (NCOs) - some of whom must have realised Pte Benton was at risk after stopping him having access to a weapon in the days leading up to his death - should have known he was being bullied and abused.
He said the soldier had tried to get on guard duty on a previous occasion - a move which bore "striking similarities" to events on the day he died.
The QC said officers should have known he posed a "risk of harm" in the days leading up to his imminent discharge and should have prevented him having a gun.
Yet on the day he died, a guard was unaware Pte Benton should not have had access to a weapon.
Such a "simple step" would have prevented his death, Mr Greaney said.
"All these failures have a direct causal connection to Sean's death," he told the court.
"If they had not occurred, Sean would not have had access to a weapon to shoot himself."
The inquest continues.