Gloucestershire Warwickshire Steam Railway bridge plea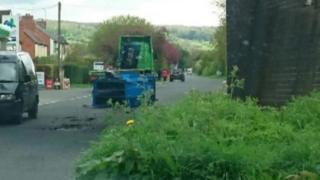 Volunteers at a heritage railway say tens of thousands of pounds is being spent on a 115-year-old bridge which has been repeatedly hit by lorries.
They said at least 14 trucks had hit Gloucestershire Warwickshire Steam Railway's Broadway bridge since 2014.
GWSR's John Balderstone said despite "low bridge" signs and warnings drivers seemed "oblivious to the danger".
It has affected services, has cost £72,000 in repairs and £90,000 is be spent protecting the bridge, he said.
Most of the repair money has been paid for through lorry drivers' insurance, but it has led to extra work on the railway, Mr Balderstone said.
The group is planning to spend £90,000 on steel impact beams on either side of the Worcestershire bridge.
Bridge engineer Mr Balderstone said: "That's money we could and should spend on developing facilities for our growing number or visitors or completing Broadway station sooner, rather than later."
Volunteers raised more than £1.3m to extend the line to Broadway in 2017. The line now goes from Cheltenham to the village.
Broadway station, which closed in 1960, reopened in March. Work on one of its platforms and cafe is continuing.
Network Rail began a campaign last year, warning there were about 2,000 bridge strikes by over-sized lorries in Britain each year.