Firefighters in second Worcester rugby union record bid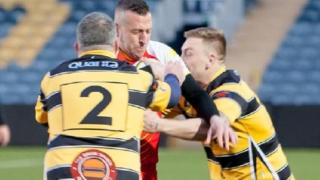 A team of firefighters are vying for the world record for the longest game of rugby union - after the recording of their first attempt went missing.
Luke Veal, 40, said Saturday's sun and heat was a "challenge" for two charity squads playing 30 hours of rugby at Worcester's Sixways Stadium.
Last year Guinness World Records could not verify their bid after six hours of film footage of the game was lost.
"We have actually broken the record twice," Mr Veal said.
The Fire Fighters Charity team beat the Scotty's Little Soldiers 1,603 to 1,483 in the match which ended on Saturday afternoon.
Scotty's Little Soldiers, which helps children who have lost a parent serving in the UK forces, holds the record for the longest marathon rugby union game with the School of Hard Knocks. They played for 28 hours 23 minutes in 2015.
Mr Veal, of Bridgnorth, said his team played for more than 30 hours last year, which was a "great achievement" but they were "devastated" when it could not be verified.
"We all decided that we wanted the record so we did it again this year.
"Everybody was sunburnt and very sore and we were dropping like flies. But it was an amazing experience."
They are now waiting to hear if they have been successful.