Reflections on our local elections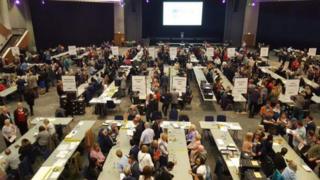 Apart from UKIP's drubbing, there've been precious few triumphs or disasters.
UKIP were almost wiped out here, losing 23 councillors.
Meanwhile, Labour's deputy leader, the West Bromwich MP Tom Watson, said his party had consolidated the progress it made in last year's general election.
But this is a time in the electoral cycle when parties in opposition at Westminster need to do more than consolidating. And not losing their majorities in marginal places like Redditch and Nuneaton.
The Conservatives will be mightily relieved to have limited the damage in some places, and made real progress in key places like Dudley and Walsall.
No doubt about the losers - UKIP has a big question mark over its future.
Elsewhere, the Liberal Democrats are showing signs that their recovery plan is working, comfortably retaining power in Cheltenham.
And the elections saw a historic moment for the Greens.
They've just won their first seat on Britain's biggest local authority.
A total of 16 councils went to the polls across our Midlands patch, with 220 seats up for election.
In terms of seats, the Conservatives came out on top, gaining a total of 31 across the West Midlands.
Labour dropped by nine and the Liberal Democrats were down one.
The Greens are on the up though, the night brought three more seats for them.