Photo shoot celebrates Grenfell and arena bomb volunteers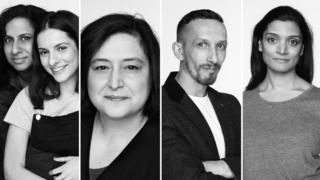 A photo shoot by portrait and fashion photographer Rankin is celebrating the volunteers who helped after the Manchester bombing and Grenfell fire.
The high rise blaze in London and the terror attack saw the largest Red Cross humanitarian responses in the United Kingdom since World War Two.
The images have been released to mark Red Cross week, which begins on Sunday.
More than 1,000 Red Cross volunteers worked in Manchester and London in the aftermath of the tragedies.
Rankin said he hoped his shots of the volunteers captured how the "power of community shone through" following the horrific events in both cities.
'Lasting impact'
On both occasions Red Cross volunteers provided first aid at the scene, helped bereaved people and those searching searching for missing loved ones and sorted through items donated by the public.
Zoë Abrams, Executive Director at the British Red Cross, said: "The horrific events in Manchester and London last summer were truly shocking for our nation. But even during these most terrible of times we also saw the extraordinary power of human kindness."
Julia Reason, 57, from Warrington, who volunteered in both London and Manchester, said: "The events of last year have had a lasting impact on me."
Marilisa Casturà, 44, who travelled from Norwich to London in the aftermath of the Grenfell Tower fire to support affected families, said: "The sense of community that I felt at Grenfell was like nothing that I'd ever experienced anywhere else."
Twenty-two people died on 22 May when a suicide bomber blew himself up at the Ariana Gande at the Manchester Arena while 71 people died in the west London tower block on 14 June.