Grand Canyon crash death brothers 'suffered 100% burns'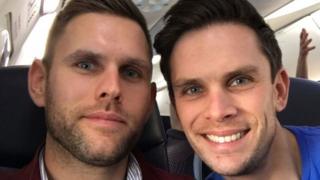 Two brothers were so badly burned in a helicopter crash that DNA tests were needed to establish their identity, autopsy reports have revealed.
Stuart and Jason Hill, 30 and 32, from Worthing, in West Sussex, suffered burns to 100% of their bodies in the Grand Canyon crash on 10 February.
The reports said neither man was "identifiable by physical features".
They were on holiday in the US with newlyweds Jon and Eleanor Udall, who also died along with Becky Dobson.
Mr Udall, who was in his 30s and from Brighton, died in hospital in Las Vegas 12 days after the accident.
His wife, who was 29, died four days later.
Another Briton, Jennifer Barham, 39, and the pilot Scott Booth, 42, were critically injured.
The parents of Mr Udall are suing the tour operator and the aircraft manufacturer.
Philip and Marlene Udall, of Southampton, said Papillon Grand Canyon Helicopters and Airbus Helicopters negligently failed to install a crash-resistant fuel tank.
After the crash, Papillon announced it would fit 40 of the crash-resistant tanks to its fleet.
The family is also suing the pilot, accusing him of negligence for crashing.