Hadrian's Wall finds suggest family life at Roman outpost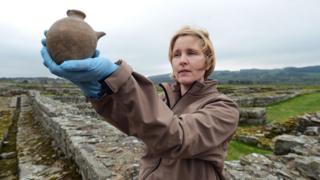 Roman artefacts that suggest Hadrian's Wall was home to women and children, as well as soldiers, are to go on show.
The pieces were unearthed during the excavation of a cemetery at one of the wall's forts.
They include cremation urns holding the remains of a woman and child, infants' feeding bottles and remnants of a doll.
English Heritage's Roman collections curator Frances McIntosh said the wall was once "a thriving centre of everyday life".
The charity believes the young woman could have been the child's mother, suggesting the wall was not just occupied by military men.
Articles also found in the woman's urn include a section of iron armour chain mail, which would normally indicate a male burial.
"The discovery of this woman and child is fascinating, it leaves us with questions about how they were related, and why she was buried with armour," Ms McIntosh said.
"Even though ordinary Roman soldiers weren't officially allowed to marry until 197AD, a blind eye was often turned and many wives and children would have lived there, alongside a large community of civilians which sprung up to service the forts."
Other artefacts include evidence of Roman board games, a perfume vase in "impeccable" condition, the remnants of a doll and a bone whistle.
They will go on display at Birdoswald Roman Fort in Cumbria and Corbridge Roman Town.
Also on display will be a crane demonstrating the expertise needed to build the wall, English Heritage said.
The construction of Hadrian's Wall began in 122AD and it stretched from the Solway Firth to the River Tyne.