Driver caught speeding on M6 the day his ban was lifted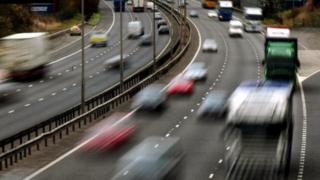 A man caught speeding at 99mph on the day his disqualification had expired is one of 270 driving-related offences which have been recorded following a week-long "blitz" by traffic police.
Between 8-15 April, 63 vehicles were seized after drivers had no licence or insurance, West Midlands Police said.
Two motorists were caught driving at speeds of 115mph and 103mph on the M6.
A further 30 drivers were caught using their phone at the wheel, while there were 87 cases of speeding.
The "crackdown" was carried out by Central Motorway Police Group (CMPG), covering Staffordshire Police and West Midlands Police force areas.
No insurance
The motorist caught the morning his ban had expired was on the M6 Toll - also driving with no insurance.
The remaining offences ranged from not wearing a seatbelt, dangerous driving and going through a red light, police said.
Supt Dean Hatton, from CMPG, said: "We will not tolerate dangerous and illegal driving on our roads which put not only you as the driver, but other road users at risk.
"I see the consequences and devastation of serious and fatal road traffic collisions too often and I would urge drivers to think carefully about their own actions while behind the wheel."