Will Salisbury ever recover from the Skripal poisoning?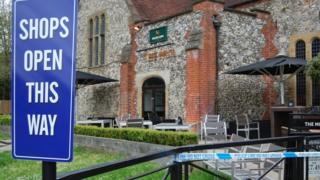 Nearly two months have passed since the former Russian spy Sergei Skripal and his daughter, Yulia, were the victims of a nerve agent attack in Salisbury. Traces of military-grade Novichok were found at nine locations and a multi-million pound operation to decontaminate the locations could take months. Meanwhile, the city is still suffering the after effects.
Coming out of the railway station it is clear to see that Salisbury is a popular tourist destination.
An excitable group of middle-aged Spanish tourists in puffer jackets fresh off the train are checking their maps while a quieter Japanese couple go in search of a taxi.
"Ah, ver! La catedral!," shouts the Spanish group's leader, as they head towards the grand monument which boasts Britain's tallest spire and gives Salisbury its city status.
It feels, however, more like a market town, with independent shops nestled between traditional pubs which line evocatively-named streets such as Fish Row, Silver Street and Pennyfarthing Street.
Along Fisherton Street people are enjoying the sun and the cool breeze coming off the flowing River Avon, while others take photos of the 14th Century clock tower.
On the opposite side is the approach to The Mill which has a number of new signs saying "shops open this way". These recently-erected signs are the first indication that all is not well.
The blue and white signs give way to blue and white police tape fastened across the black metal fence outside The Mill pub, still deemed by government scientists to be at risk of contamination.
Police in yellow high-visibility jackets stand guard in front of the boarded-up pub to ensure no-one crosses the cordon.
"It's a strange feeling. We go about our business and then see this police line," says resident, Rosemary Duffy.
"It's a bit frightening as it's an unknown quantity. It's a disgusting thing that's happened here but we've got to keep going."
It is the first time Mrs Duffy has been to the Maltings shopping precinct since the Skripals were taken ill there on 4 March.
She says she was tempted back by the free parking, laid on by the local council in a bid to get more people back into the city centre.
Skripal poisoning sites clean-up begins
'It's just so quintessentially English'
What are nerve agents and what do they do?
Like most people driving to Salisbury, Mrs Duffy parked next to the 1980s-style shopping area made out of red brick.
The walk to the shops is now lined by metre-high metal fences and police tape, blocking off the main route to the shops.
Within the cordon there are some big name shops such as Superdrug, Robert Dyas and Greggs but there is also the small, independent B and R Textiles which faces the bench - now removed - where the Skripals were found unconscious.
"I'm currently losing £12,000 to £15,000 a week," says manager Richard Wheeler, who has been providing soft furnishings such as blinds and curtains for 30 years.
"Up until now this has been a very successful business but if this doesn't get sorted out soon it could be the end of it."
Forced to close for a week, the 60-year-old was given permission to open his shop via the back entrance, which is outside of the police cordon, so he can fulfil existing orders and fittings.
"Those take us up to the end of May but I don't know what I'll do after that."
Customers such as Liz Hannah, 57, only discovered the shop was open after Mr Wheeler's daughter posted a message on Facebook.
She describes the aftermath of the attack on the Skripals as "a bit surreal and frightening at first" but says people have got used to it.
"It's happened and there's not a lot you can do about it. I think it will take Salisbury a while to get over it but people need to know that it's safe.
"In a way the cordons makes you feel safer because at least you know they're being thorough and cleaning it all up. Salisbury will the cleanest city ever after this."
But Mr Wheeler - who only has enough money to pay his six staff until the end of May - says he just wants things to return to normal.
"It all seems very long-winded but there's obviously processes the authorities have to go through which do take time, but the most frustrating thing was that for the first five weeks we didn't know anything.
"We saw nothing happening regarding a clean-up - that only started last week - and then it depends if they find anything during that."
The frustration is also felt by the small independent businesses along Riverside Walk, on the other side of the Mill.
"Because of the cordons we don't get our footfall along here and we don't have any business," says Lucy Reeves at the Crystal shop, which sells a myriad of brightly coloured gems.
"It's been a massive shock. We now feel like the Maltings is a separate part of Salisbury, it's like there's a big wall up between us and the rest of Salisbury because it's so quiet now.
"I'd say we're about 70% down on what we would normally be for this time of year which is quite scary. It could be really serious if this continues."
Ms Reeves describes the cordons as "annoying" but says the police "are all really lovely".
She adds: "It's nice having them around actually, it's someone to talk to."
Poppy White works further down Riverside Walk at Ganesha Handicrafts.
"Sales have been down, and some days we don't get anything at all," says the 23-year-old.
The shop is now operating on reduced hours and is struggling to meet a quarter of its daily sales targets. But it is not just the shops that are suffering, it is also the people who work in them.
Ms White has worked 55 fewer hours than normal over the past month.
"That equates to a lot of money that I can't live without. It's a really difficult situation.
"If this continues much longer I will have to find somewhere else to work and I don't want to do that because I like this job.
"We have a lot of loyal customers but I've only seen two of those because it's scary."
Tourism is big business in Salisbury. Nearly 10% of all jobs are tourism related, and it is estimated that more than five million people visited Salisbury in 2016, spending about £270m.
VisitWiltshire, which promotes tourism in the city, says it has seen a drop in the number of visitors and revenue for March and April. It describes the picture as "mixed" with some businesses reporting losses of 40%.
There are concerns about forward bookings and cancellations from the domestic market which is why VisitWiltshire was given a £200,000 government grant to promote its message that it is "business as usual".
Undeterred by the headlines, John and Polly Goodman have visited from Reading.
"I'm sure [it is] perfectly safe. I don't have any qualms about being here at all," says Mr Goodman.
"They know what they're doing and they're cleaning it all up and I trust the authorities to get it sorted. It feels unfair to punish Salisbury because of a terrible attack."
Fred and Cathay from Nice, France, are visiting the city for the first time as part of a tour around the UK, with their children Antoine and Louise.
"I knew something had happened but I didn't know it was actually here. But frankly, we don't care at all," says Cathay.
"We come from Nice where a man in a truck killed 80 people. Fred's mum was injured in that attack but she is ok. For us, we live and want to explore the world."
Wiltshire Council has introduced free parking, free park and ride, and some free bus travel in an attempt to draw people back.
Salisbury City Council leader, Matthew Dean, says a number of special events are also in the pipeline and a St George's day celebration held on Sunday in the Market Square attracted 2,500 people.
"The affected areas from the attack comprise less than 2% of the city," he says.
Allum and Sidaway, a family-run jewellers, faces Zizzi's - the restaurant where the Skripals ate before the attack and which is now hidden by a blue cordon.
The shop's manager Paul Lewis is also a director of Salisbury's Chamber of Commerce, which represents about 500 businesses.
"This January and February saw year-on-year growth - of 25% and 45% respectively - but since March when the incident happened I've had a 25% drop."
He forecasts April will be worse for his shop.
"I can expect that because there was a media circus going on right outside my door. It still doesn't feel like there's any sort of recovery."
A few narrow streets away from the Market Square, the Salisbury Journal's editor Joe Riddle is preparing the latest issue of his paper.
The journalist grew up in the city and believes it will recover.
"A lot of people are fed up with how some sections of the national press are portraying Salisbury, giving the impression it is shut down and that the whole city is a no-go area.
"There is frustration and they feel that is putting people off from coming here.
"Most people in Salisbury have moved on and hopefully, once this has all blown over, it will be business as usual."