Crime bosses jailed after £66m drugs haul found in Hull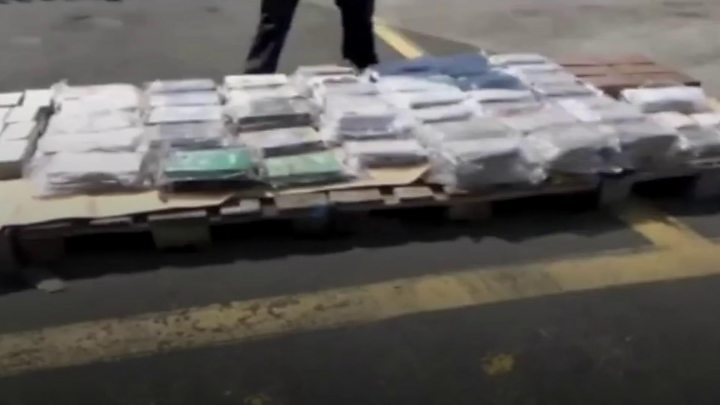 A gang of drug smugglers has been jailed after a haul worth £66.5m was found concealed in farm equipment.
About 58kg of cocaine and 84kg of heroin were seized in a covert police operation at the King George Docks in Hull in May 2017.
The final gang member, Frank Eaton, 47, from Ashbourne, was jailed at Burnley Crown Court earlier after admitting conspiracy to import the drugs.
Police said the gang involved crime bosses from across England.
Det Insp Tony Norman, of Greater Manchester Police, said: "These men operated one of the largest international drug importation networks that GMP has ever investigated.
"Their offending... reached across the UK and will no doubt have had a ripple effect in mainland Europe."
The gang were involved in a network that saw class A drugs transported from Belgium to the UK via the Netherlands.
The drugs were hidden in agricultural equipment and in trailers, ending up at a Derbyshire location operated by David Reece and Frank Eaton.
The pair, who had been jailed previously in Belgium for drugs importation, would then organise its distribution to regional crime bosses, GMP said.
They included Julian Solomon in Merseyside and Greater Manchester, Frank Eaton in the West Midlands and Everton Bailey in the East Midlands.
After the drugs were seized in Hull, some of the gang's members - suspecting their international associates had ripped them off and kept the drugs for themselves - flew to Belgium for an emergency meeting.
Upon his return to the UK, Solomon was arrested and remanded into custody at HMP Forest Bank where he was visited on 26 May 2017 by Jason Starmer and Graham Rawling.
The following day Starmer was observed by police at a "panicked meeting" with Rawling and James Newhall at a pub car park near Ormskirk, Lancashire, where they exchanged phones and papers, GMP said.
Starmer was then arrested in St Helens and was found to have thousands of pounds in cash and a kilogram of cocaine in his car.
Officer searching his home found a firearm and ammunition along with more quantities of cash.
Eaton, who did not return to the UK following the crisis meeting, was arrested in Belgium.
He was extradited during the trial of his seven co-conspirators, who were jailed at Preston Crown Court in March.
The convicted men were:
Julian Solomon, 37, of Grove Lane, Hale, was convicted of conspiracy to import cocaine and heroin and jailed for 25 years
Jason Starmer, 42, admitted conspiracy to import cocaine and heroin and possession of a firearm and was jailed for 21 years
David Reece, 55, of Ludlam Ave, Nottinghamshire was convicted of conspiracy to import cocaine and heroin and jailed for 16 years
Everton Bailey, 57, of Mandarin Way, Derbyshire was convicted of conspiracy to import cocaine and heroin and jailed for 16 years
Graham Rawling, 58, of Sussex Road, Southport, pleaded guilty to conspiracy to supply cocaine and was found guilty of conspiracy to supply heroin. He was jailed for 10 years
Gerrard Young, 48, of Heathwood Road, Manchester was convicted of conspiracy to supply cocaine and heroin and jailed for nine years
James Newhall, 42, of Delph Common Road, Ormskirk pleaded guilty to conspiracy to supply cocaine and heroin and was jailed for six years and nine months
Frank Eaton, 47, of Bag Lane, Ashbourne pleaded guilty to conspiracy to import cocaine and heroin and was jailed for 17 years