Legal threat over Virgin Trains East Coast rail franchise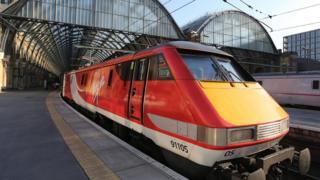 The transport secretary is being threatened with legal action if firms running East Coast mainline trains are allowed to bid for future contracts.
Stagecoach and Virgin were told they could exit the Virgin Trains East Coast franchise three years early after reporting losses.
Renationalisation group Bring Back British Rail wants "action to stop this happening again".
Chris Grayling's office said there was "no basis for legal action".
"Virgin Stagecoach have met all of their financial commitments as set out in the East Coast franchise agreements," a Department for Transport spokesman said.
Bring Back British Rail's solicitor said it would have "no option but to seek the court's intervention" if Mr Grayling refuses to stop Stagecoach and Virgin from bidding for more rail franchises.
Ellie Harrison, from the campaign group, said: "The current Virgin Trains East Coast franchise has failed within three years yet the Secretary of State for Transport Chris Grayling is allowing its operators, Stagecoach and Virgin, to simply walk away, free to bid for rail franchises again."
The joint venture between Stagecoach (90%) and Virgin (10%) runs trains between London King's Cross and Edinburgh.
Stagecoach had reported losses on the line and in February Mr Grayling told MPs it had "got its numbers wrong" and had "overbid".
Labour called the decision to allow the companies to withdraw early a "bailout".