Crystal Palace fans lodge complaint with Sussex Police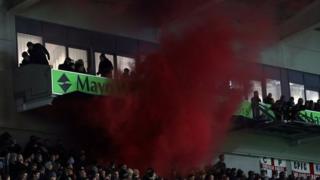 Crystal Palace fans have officially complained to Sussex Police over treatment they say they received at a match against Brighton and Hove Albion.
Six people were arrested and two stewards taken to hospital after the two sides met on 28 November.
Solicitors for the Crystal Palace Supporters Trust have written to the force saying fans were struck with batons and "treated like cattle".
The force's professional standards department is assessing the complaint.
In a statement, Sussex Police said it had already apologised to both clubs and supporters about some incorrect information published after the match.
Live: More news from across the South East
Trouble broke out during the Premier League match at Brighton's Amex Stadium.
'Knives and knuckledusters'
Brighton said Palace supporters who had travelled without tickets tried to force their way into the stadium, and a decision was taken to close turnstiles early.
Ch Insp Simon Nelson, the match commander, said some fans had attempted to attend the game with "knives and knuckledusters", which were found at the ground.
However, Sussex Police was forced to issue an apology on 7 December for wrongly claiming weapons were found discarded at the stadium, saying the statement had been issued "in good faith" based on information logged by officers on the night.
Ch Insp Nelson then issued his own apology via his Twitter account a day later.
In a nine-page letter to the head of professional standards at Sussex Police, Irvine Thanvi Natas Solicitors said the central concern was "the belief that the events as they unfolded and the significant disquiet arising from law-abiding fans, were avoidable had there been better planning and communication".
It said there were two aspects to the complaint - in respect of the overall policing operation, and the actions of individual officers.
The letter states that "the only named officer against whom a complaint is made is Supt (previously Ch Insp) Simon Nelson, in respect of his command of the operation, and in respect of the allegations he made about CPFC fans".
It outlines a number of "foreseeable failures" and calls for the officers responsible to be "appropriately disciplined".
Crystal Palace host Brighton and Hove Albion at Selhurst Park on Saturday in the Premier League.