English Heritage battles to save decaying cannon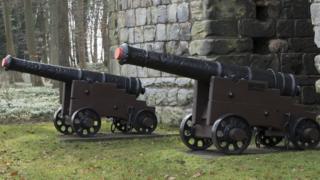 For centuries cannon have protected England's coast from attack, but now they face a threat from one of the most formidable foes of all - the weather.
The historic guns, once a key part of England's fortifications, are now at serious risk according to English Heritage which looks after them.
It says those along the coast are especially vulnerable, corroding at 20 times the rate of those further inland.
A £50,000 appeal has been launched to save four in most need of help.
The Save Our Cannons campaign is focusing on two 18th-Century nine-pounder guns at Etal Castle. Northumberland, and World War Two anti-aircraft guns at Dover Castle in Kent and Pendennis Castle, near Falmouth.
The money will go towards the cost of removing corrosion, repainting and replacing parts that are no longer serviceable.
English Heritage has a duty to care for the nation's collection of historic places and artefacts, and says it needs the funding - on top of its £20m annual budget - to keep up with the rate of deterioration.
The charity's senior collections conservator Bethan Stanley said: "Our cannons are precious objects, vital alongside our castles and fortifications in telling the story of England as an island nation.
"Coastal guns are regularly battered by strong winds blowing corrosive moisture and salt spray over them. Untreated they can corrode 20 times faster than those just a mile or so inland."
The four guns are part of a collection of 400 cannon, carriages and historic guns looked after by English Heritage.
Others include the 7.3m-long Pocket Pistol at Dover Castle - a 1544 gift to King Henry VIII - and Roaring Meg at Goodrich Castle in Herefordshire; the only surviving mortar of the English Civil Wars.
WWII anti-aircraft gun, Dover Castle
The quick-firing 3.7-inch anti-aircraft gun - one of a dozen that looked over the port in 1940 - has suffered corrosion from the sea air and from pollution from the docks below.
It needs repainting and significant work on its deteriorating metal structure, while its wheels need re-inflating.
WWII anti-aircraft gun, Pendennis Castle
Similar to the gun at Dover and once capable of firing 10-20 shells a minute up to 30,000ft, the 3.7-inch gun was stationed at Falmouth during the build-up of troops and supplies in preparation for the D-Day landings.
It has suffered extensive corrosion, threatening its stability, and requires paint removal, air-abrasion cleaning, extensive repainting and a new platform to prevent its wheels sinking into the grass.
18th-Century cannons, Etal Castle
The pair of nine-pounder cannons are thought to have been salvaged from HMS Royal George, which sank in 1782 with the loss of more than 800 men, women and children.
Flaking paint and areas of corrosion need replacing, as do the wooden carriages on which they are mounted.