Southern Health fined £2m over deaths of two patients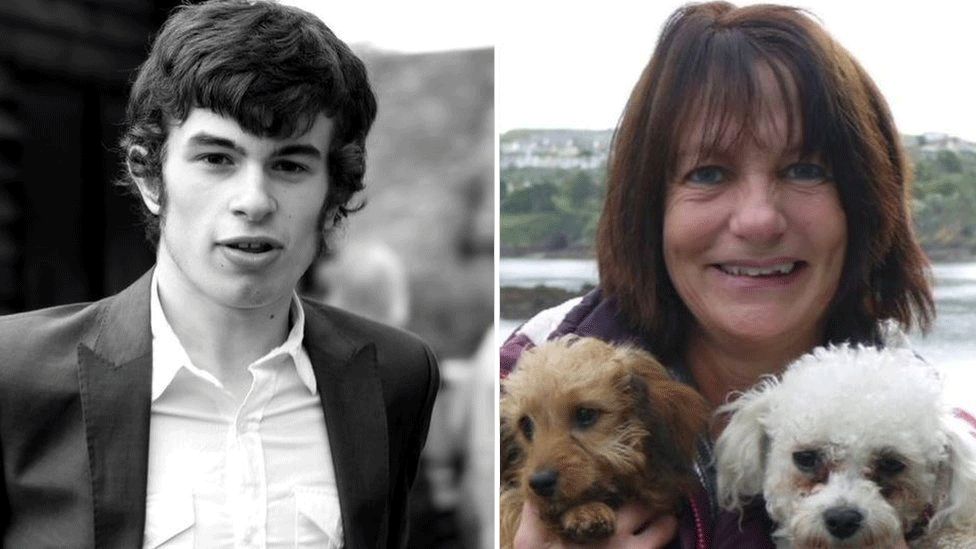 An NHS trust that admitted failing two patients who died in its care, one in a bath, has been fined £2m.
Connor Sparrowhawk, 18, drowned in Oxford in 2013. Teresa Colvin, 45, died in Hampshire in 2012.
Southern Health admitted to "systemic failures" and pleaded guilty in 2017 to breaching health and safety laws.
The trust will pay £950,000 for Mrs Colvin's death and just over £1m for that of Connor Sparrowhawk.
The judge said the penalty was "a just and proportionate outcome that marks the seriousness of the Trust's offending, the terrible consequences of that offending, and the other material factors that I have indicated".
He said it was a "regrettable fact" Dr Sara Ryan, Mr Sparrowhawk's mother, and Roger Colvin, Teresa Colvin's husband, had to campaign to uncover problems at the trust.
The judge paid tribute in particular to Dr Ryan who had to endure "entirely unjustified criticism" during her JusticeforLB campaign - named after her son's nickname Laughing Boy.
A victim impact statement from Dr Ryan made for "almost unbearable reading," he said.
He acknowledged the trust's early indication it would plead guilty and said Southern Health had made it completely clear it would not attempt to shift responsibility to individuals.
Speaking outside court, Teresa Colvin's husband Roger said his wife - who he called TJ - had been "a vivacious, beautiful, and loving woman".
"Six years on, so many questions play over in my mind", he said, adding his life was "much poorer" for her loss. "We all loved her so dearly," he said.
"TJ and I believed the hospital was a place of safety and Southern Health failed her," he added.
Mr Sparrowhawk's mother thanked the judge for his summary of Southern Health's failures and also thanked the Health and Safety Executive for their "meticulous investigation".
She added: "No-one should die a preventable death in the care of the state.
"I'm left thinking if Connor was here now in the shadow of Oxford Crown Court and St Aldates police station, he would say: 'Why mum?' And I would say: 'I don't know, but we've done you proud'."
In its submissions to the court, Southern Health acknowledged the deaths were "entirely preventable" and were "a matter of significant regret" it did not address its failures quicker.
He was ordered to stand during the final part of the sentencing by the judge as an acknowledgement of the trust's historic failings.
Speaking outside court, he said: "Those mistakes and those failures had dire consequences.
"Both Connor and Teresa should not have died. That is a matter of profound regret to me and the organisation, and I am truly sorry. We let them down and we let their families down," he said.
The deaths had "served as a catalyst for change," he added.
Southern Health employs more than 6,000 staff and owns or manages 136 sites, including 15 mental health facilities and two for people with learning difficulties.
26 April 2012 - Teresa Colvin dies at Southampton General Hospital after she was found unconscious at Woodhaven Adult Mental Health Hospital
July 2013 - Connor Sparrowhawk, 18, drowns after an epileptic seizure at Oxford unit Slade House. An inquest later rules neglect contributed to his death
10 December 2015 - The BBC reveals details of a leaked independent report into the trust, produced by Mazars, which highlights a "failure of leadership". Health Secretary Jeremy Hunt says he is "profoundly shocked"
17 December 2015 - The report is officially published and shows out of 722 unexpected deaths over four years, only 272 were properly investigated
29 April 2016 - A full CQC inspection report is published which says the trust is continuing to put patients at risk
30 June 2016 - Following a review of the management team competencies, it is announced that the trust's boss Katrina Percy is to keep her job
29 July 2016 - The BBC reveals the trust paid millions of pounds in contracts to companies owned by previous associates of Ms Percy
7 October 2016 - Ms Percy resigns completely from the trust
13 December 2016 - A CQC report, the culmination of a one-year inquiry, says investigations into patient deaths are inadequate
19 August 2017 - A medical tribunal finds a doctor failed to carry out risk assessments for Connor Sparrowhawk
12 September 2017 - The trust announces Dr Nick Broughton, leader of Somerset Partnership NHS Foundation Trust, will take up Southern Health's chief executive role in November
18 September 2017 - The trust admits breaching health and safety law in the case of Connor Sparrowhawk
20 November 2017 - The trust admits breaching health and safety law in the case of Theresa Colvin
Related Internet Links
The BBC is not responsible for the content of external sites.