Northern trains strike: Fresh walkout in guards row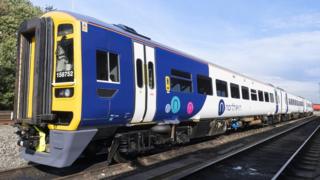 Workers at Northern have begun another 24 hours of strike action in a row over driver-only operated trains.
Members of the RMT union argue passenger safety would be put at risk by scrapping the role of guards.
The rail company said driver-only operated trains are widely used elsewhere.
It expects to run almost 1,400 services - about 50% of its usual weekday timetable - with the majority scheduled between 07:00 and 19:00 BST.
A revised timetable has been published, but the company has warned trains and replacement bus services would be busy, particularly at peak times.
The RMT estimates about 500,000 trains in England annually would be affected by the proposal to remove guards.
It said it had not received a "positive response" to its call for joint talks with Northern and the Department for Transport (DfT).
The union's general secretary, Mick Cash, said it was "ludicrous" that guards had been protected through negotiation with rail firms in Scotland and Wales but no resolution had been reached in England.
He added: "No-one should be in any doubt, this dispute is about putting the safety of the travelling public before the profits of the private train companies.
"If it's good enough for Wales and Scotland to put safety first then it's good enough for the rest of the UK."
Northern services cover the North West, North East, Yorkshire and Midlands.
The dispute has been ongoing for more than a year and Northern's RMT members are set to stage a further walkout on Thursday.