Pothole repairs: Councils to get extra £100m for road damage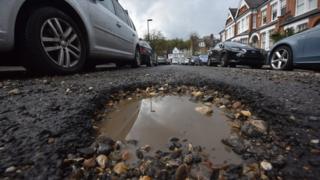 An extra £100m is being shared among councils in England to fund repairs to roads damaged by recent storms, the transport secretary has announced.
Chris Grayling said the money would help patch up nearly two million potholes and protect roads from future severe weather conditions.
It comes in the wake of Storm Emma and the "Beast from the East".
Devon was given the largest sum at £4.5m, on top of £2.5m it had already received to "quickly repair the A379".
Norfolk and North Yorkshire councils have each been allocated more than £3m.
Birmingham, Sheffield and the Isle of Wight were not given any money.
Mr Grayling said: "People rely on good roads to get to work and to see friends or family.
"We have seen an unusually prolonged spell of freezing weather which has caused damage to our local roads.
The transport secretary said the funding would allow councils to repair roads so that "all road users can enjoy their journeys without having to dodge potholes."
An additional £900,000 is being given to a number of local authorities to trial technology to prevent further damage to roads before it occurs.
Among them is Blackpool, which has been given £100,000 for a pilot scheme where cameras will be mounted on vehicles to collect data on road and path conditions.
York is to also get £72,000 for a similar project.
The government said the £100m cash was on top of the £6bn it was investing in improving local roads across the country and the £75m funding it has already given this year to councils from a "Pothole Action Fund".