Deepcut inquest: Staff 'guilty' over Pte Sean Benton death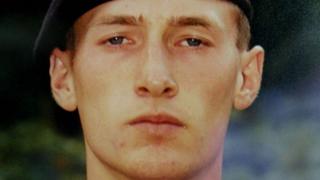 A staff member at Deepcut barracks told her colleagues they were all "more or less guilty" over the death of a recruit, an inquest has heard.
Terri Lewis, who was L/Cpl in charge of guard duty at the Surrey base, said she saw Pte Sean Benton being physically and mentally abused.
The 20-year-old from Sussex was found with five bullets in his chest in 1995, the first of four soldiers to die.
Ms Lewis said Pte Benton confided in her that he felt picked on and bullied.
The hearing at Woking Coroner's Court has heard claims of bullying at Deepcut, with allegations made against two of Pte Benton's instructors - Sgt Andrew Gavaghan and Cpl Martin Holder.
Bridget Dolan, counsel to the inquest, asked Ms Lewis what abuse she had witnessed.
Ms Lewis replied: "I did witness Sgt Gavaghan and Cpl Holder at times single him out and punch him and push him down.
"On one occasion he [Sgt Gavaghan] pulled him out of the parade square and was just punching him repeatedly in the arm."
But the inquest heard that when Ms Lewis raised concerns, she was laughed at.
Pte Benton died on 9 June 1995 and the inquest heard at the start of the month, he had been charged over an incident at a pub where he had threatened to shoot at Ms Lewis and her car.
Ms Lewis said she had tried to deal with it by giving him extra guard duty, but her superiors made her charge him.
She said Pte Benton broke down in tears when this happened and she thought he should not have been on duty with a live gun.
Colleagues gathered in the staff room after Pte Benton died, she told the inquest.
And when asked what she had said, Ms Lewis replied: "That we were more or less guilty of what had happened and that we were all accountable in some form."
The inquest continues.
---
The Deepcut Four
20-year-old Pte Sean Benton, from Hastings, was the first to be found dead in June 1995

18-year-old Pte Cheryl James, from Llangollen was found with a bullet wound to her forehead in November 1995

17-year-old Pte Geoff Gray, from Seaham, was found with two gunshot wounds to his head in 2001

17-year-old Pte James Collinson, from Perth, was found with a single gunshot wound through his chin while on guard duty in 2002