Shoreham air crash: Pilot Andy Hill to be charged over deaths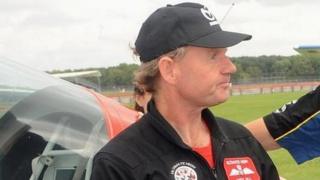 The pilot of a vintage jet which crashed on to a dual carriageway during the Shoreham Airshow, killing 11 men, is to be charged with manslaughter.
Andy Hill was performing aerobatics when the Hawker Hunter jet crashed on to the A27 in Sussex on 22 August 2015.
Families of those who died have waited nearly three years to learn whether charges would be brought, an MP said.
Mr Hill, from Hertfordshire, who is 54 on Thursday, is due to appear before Westminster magistrates on 19 April.
He is to face 11 counts of manslaughter by gross negligence and one of endangering an aircraft, the Crown Prosecution Service (CPS) said.
Mr Hill, of Sandon, Buntingford, Hertfordshire, was questioned for the first time by police in December 2015 under caution, but was not arrested. He had voluntarily attended an interview.
Families 'in limbo'
Families met with prosecutors at Sussex Police headquarters in Lewes earlier to discuss the decision.
Simon Ringrose, from the CPS special crime division, said he had found there was sufficient evidence to charge Mr Hill after a "careful review" of the case.
Phil and Sue Grimstone, whose son Matthew died when the aircraft hit his car, said they were pleased a decision had "finally been made" and they hoped the criminal process would "progress swiftly".
Edwina Abrahams, whose wedding chauffeur husband Maurice, 76, was on his way to pick up a bride when he died, said she was "very relieved" by the announcement.
Mrs Abrahams, 62, said: "It's taken such a long time to get here. Now we think that this time next year it will all be behind us. It has taken too long."
The Grimstones' solicitor, Jim Morris, said the decision had taken over two and a half years, and an inquest expected to take eight weeks to complete could only commence after criminal proceedings had ended.
Tim Loughton, MP for Worthing East and Shoreham, welcomed the announcement, but criticised the delay in bringing charges.
"Frankly those families have been in limbo for far too long and this should have happened a long time ago," he said.
Peter Kyle, Labour MP for Hove where some of the victims' families reside, said: "This is the right decision. My instinctive first reaction is that for the families this must be just an enormous moment for them to hear this and an unbelievable relief."
"I want this to move forward with the pace it has been missing to date."
James Healy-Prat, head of aviation at Stewarts Law, who is representing some of the victims' families, said "emotions had been mixed".
"At least the families now know what the position is with the criminal proceedings," he said.
"But it means the inquest will likely be delayed by another year at least, which is difficult for them."
"So it could be 2019, four years after the event, before they can get closure."
Mr Hill, a trained Royal Air Force instructor and fast jet pilot, was seriously injured in the crash, which saw him thrown clear of the aircraft.
He was initially placed in a medically induced coma and was interviewed by police following his discharge from hospital.
Coroner Penelope Schofield had said she was working towards holding a full inquest in the autumn, but the proceedings will be postponed until criminal proceedings have concluded.
Sussex Police confirmed that Mr Hill would be formally charged with the offences and said the force's specialist officers will continue to support the families and friends of those who died.
The Shoreham Airshow has not been staged again since the disaster, out of respect for the families of the men who died.
The victims
Matt Jones, a 24-year-old personal trainer
Matthew Grimstone, 23, a Worthing United footballer who worked as a groundsman at Brighton & Hove Albion
Jacob Schilt, also 23 and also a Worthing United player, was travelling to a match with Mr Grimstone
Maurice Abrahams, 76, from Brighton, was a chauffeur on his way to pick up a bride on her wedding day
Friends Richard Smith, 26, and Dylan Archer, 42, who were going for a bike ride on the South Downs
Mark Reeves, 53, had ridden his motorcycle to the perimeter of Shoreham Airport to take photos of the planes
Tony Brightwell, 53, from Hove was an aircraft enthusiast and had learnt to fly at Shoreham airfield
Mark Trussler, 54, is thought to have been riding his motorcycle on the A27
Daniele Polito was travelling in the same car as Mr Jones
Graham Mallinson, 72, from Newick, was a keen photographer and retired engineer