Does being a UK City of Culture create a lasting legacy?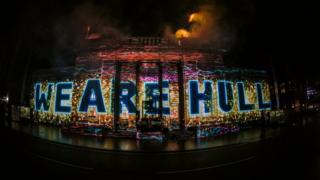 Hull's status as the UK City of Culture attracted more than five million people, £220m of investment and 800 new jobs. The findings of a recent report into its success appear to be positive. But as it passes the baton to Coventry, do UK Cities of Culture create legacies?
"It was absolutely crazy just how many people there were in the streets during some of the events.
"It felt really energetic and everyone was in a good mood."
The excitement in Matt Smith's voice is palpable as he recalls Hull's year as the UK's City of Culture in 2017.
He opened the Brain Jar cocktail bar in the city's Old Town with his friend James Claxton in September as the celebrations were in full swing.
The pair moved from York to set up their business, attracted by the city's Culture status and welcoming attitude.
"The city council was really helpful. It gave us a grant to renovate the bar as part of its regeneration of the Old Town," says 30-year-old Matt.
"It felt like Hull was a lot more geared up than York for helping a new business like ours. It was more accommodating and there was less red tape."
According to HullBID, which is part of Hull and Humber Chamber of Commerce, 51 businesses closed in 2017 but 131 new ones opened.
Two Gingers was one of them. The specialist coffee house is a short walk from Brain Jar, through the city centre. On the way, you pass the spruced-up Queen Victoria Square, a beneficiary of a £25m facelift which includes new water jets popular with children in the warmer months.
The café - named after the hair colour of owners Luke Foster and his friend Mayo Binnie - opened at the height of the city's celebrations in July.
"We wanted to open anyway but decided to speed things up because of the City of Culture," says Hull-born Luke, 25.
"It was definitely a catalyst. The city was so much busier and there were so many events going on so we definitely had some success off the back of it."
The first month of business remains Two Gingers' busiest but Luke says customer levels are now slowly building back up. He believes 2017's legacy is the change in people's attitudes to culture.
"City of Culture has transformed a working-class place which went to work during the week and then the pub at the weekend to a place where people are more willing to try new things, like going to shows and galleries," he says.
"There's a much greater ethos around the city and people who live here now have a different perspective of Hull."
According to a report in March by Hull University, nearly 800 new jobs were created between 2013 and 2016. In 2017, one in four Hull businesses recruited new staff.
One of the report authors, Prof Glenn Burgess - who is the university's deputy vice-chancellor and Hull 2017 board member - says the positions are a mix of long and short-term contracts, with "a significant proportion of businesses looking to make jobs permanent".
He predicts the value of tourism in Hull for 2017 will exceed £300m - a £15m increase on 2016.
"The impact of being City of Culture began to be felt before 2017 took place," he says.
"From the moment Hull was announced in 2013 momentum had been building, and Hull was named one of the top 10 tourist destinations for 2016 by [travel companion] Rough Guides."
In 2013 - the year Hull discovered it would become UK City of Culture - 4.75 million people visited the city. The university estimates the number of annual visitors in 2017 will have exceeded six million for the first time.
Four years earlier in 2013, Londonderry became the UK's first ever City of Culture, a year described by locals as the happiest in the city's history.
"We would do it all again tomorrow," says its senior economist, Michael Gallagher.
"It was fantastic. The reputational improvement and visibility of the city are the single biggest long-term impacts of being City of Culture.
"The people who visited said Derry was a safe and welcoming city. Given our legacy of the Troubles, we really turned it around."
During the 1970s the city's Catholic and Protestant communities were divided, with British army soldiers an ever-present fixture on the streets.
The scene in 2013 was very different. About £120m was invested in the city, enabling it to accelerate programmes such as the park-and-ride system and development of the promenade next to the River Foyle.
A former military barracks - where 1,000 British troops were garrisoned in 1972 - and the adjoining parade ground on Ebrington Square were developed into a 10,000-capacity outdoor events space which hosted the Turner Prize outside England for the first time, and BBC Radio One's Big Weekend event.
Determined to ensure that 2013 created a cultural legacy, the Arts Council of Northern Ireland and Derry City Council pledged £900,000 for music, fashion, storytelling and visual arts projects.
What next for Hull UK City of Culture?
City of Culture year 'life-enhancing'
Can Coventry rise up from grimy decline?
In total, roughly 400 jobs - a mix of short and long-term positions in hospitality and leisure - were created.
In particular, the city's hotel overnight stays soared in 2013 to 254,000 compared with 165,000 the previous year; peaking in 2016 to a record 283,000 stays despite a slight dip in the intervening years.
Mr Gallagher attributes the increase to the improvement in the city's reputation and says more hotels are planned to cope with further expected growth, including a 144-bedroom hotel at Ebrington's Clock Tower.
Though figures are not available for Hull's City of Culture year, by comparison the city's overnight stays jumped from just over 1.2m in 2013 to 1.4m in 2016.
The council is focusing on the event's legacy with a £250m plan to develop its cultural and visitor infrastructure over the next 10 years.
But has Hull suffered a giant post-party hangover since the clock struck midnight on New Year's Eve and brought to an end its Culture year?
"The level of activity and publicity fall back sharply and it does feel odd," concedes Prof Burgess.
"It's inevitable that things feel a bit flat."
But artists Davy and Kristen McGuire see a future in Hull - so much so they uprooted from Bristol and moved to the city after taking part in it the Culture programme.
"I had never heard of Hull and my first impressions of it weren't great," says 37-year-old Kristen.
"But as I saw more I grew to really like it, especially the people. They're so friendly and supportive.
"Hull reminds me of East Berlin straight after the fall of the wall, which feels oddly homely because I grew up in East Germany.
"Maybe after City of Culture there is even a little bit of this creativity and hope around that fuelled Berlin's creative rise."
Kristen's husband, Davy, says his only knowledge of Hull stemmed from Philip Larkin, whose "quite miserable" poems didn't "give a proper idea of Hull".
"Hull was really buzzing. There was a real sense of excitement and it was nice to be part of that," the 35-year-old adds.
"It doesn't feel as vibrant now but there's a real thirst for more cultural stuff to happen.
"I don't think people will forget Hull. It's more on the map now and people feel really inspired."
In December Coventry found out it would become the UK's third City of Culture, in 2021.
Laura McMillan, manager of the Coventry City of Culture Trust, described the accolade as a "game changer" for England's ninth largest city, saying it had been "for too long overlooked and undervalued".
Already, cranes can be seen across the skyline as major improvements get under way.
A new water park, due to open in 2019, is fast taking shape, the former Coventry Evening Telegraph building will be transformed into a boutique 1950s-style hotel and it was recently announced that the derelict Drapers' Hall is to be turned into a concert and music education venue.
With a larger population - and good transport links - can Coventry outdo Hull's achievements?
"Hull did an incredible job," says Laura.
"We can learn from what they achieved but Coventry will do this its own way and we will use UK City of Culture to tell our story."
She explains that because "Coventry is within two hours' journey of around 40 million people", a "huge, potential audience" has opened up.
"It's up to us to ensure that we put together a programme that will attract people from across our city and from across the world.
"We are so excited about what the years leading up to 2021 and the year itself can deliver for the city to leave a lasting legacy for Coventry."