Icy Midlands hits Titanic pothole repair costs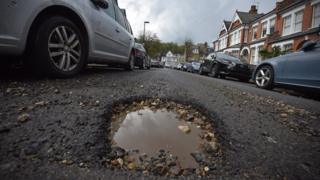 It's as sure as day follows night. After yet another freeze-up, thanks this time to "the mini beast from the east", comes yet another big thaw. And with that, the realisation dawns that the bill to repair the apparently bottomless pit of potholes on our roads has just got deeper still.
Even before this winter's succession of damaging weather events, the Department for Transport had set aside an extra £4.8m to repair more than 90,000 potholes around the West Midlands alone.
Only this week, research by the BBC Shared Data Unit revealed the local authority areas which had seen an increase in the proportion of roads deemed to be in poor condition between 2009 and 2017 according to surveys conducted on behalf of the DfT. Among them were Stoke-on-Trent, Solihull and Herefordshire.
That may not exactly be music to the ears of Hereford and South Herefordshire's Conservative MP Jesse Norman, who happens to be the minister for roads.
Announcing the Government's latest funding deal three months ago, he told us:
"We're investing record amounts to improve the condition of our roads so that drivers and cyclists do not have to dodge potholes to travel safely. We're looking at how innovations can help councils keep the roads in the best condition, saving money and planning their maintenance better."
On top of this comes the mounting toll of damage to cars. Staffordshire County Council paid out £117,239 to motorists last year. That puts it fourth in the league table of compensation payments by English local authorities.
The AA says potholes have now overtaken flat batteries as their biggest single reason for their patrols being called out. The insurance comparison website Confused.com has made some staggering calculations too.
It points out that the wreck of the Titanic languishes nearly 4,000 metres under the Atlantic. If the potholes in our part of the country alone were laid one on top of another, the website fathoms they would reach three-quarters of the way down to it.
Test case?
One pothole that Paul Bacciochi drove into near his home at Fillongley in Warwickshire accounts for just 100 millimetres of that depth. But it was so full of water he had no idea of its severity before it was too late. Result: he says the damage to his car will cost about £3,000 to repair. He should know - he runs a car repair business. Now he's threatening to sue Warwickshire County Council because he says it has failed in its responsibility to take proper care of the county's roads.
The council says in a statement that its duty is to maintain the highway network to a safe standard "within their resources".
That's one reason perhaps why the National Audit Office reports that between 2010 and 2017, councils' spending on roads had fallen by no less than 37%. Cycling UK accuses the Government of allowing local roads to rot.
The Department for Transport says: "This Government is taking the big decisions for Britain's future and investing a record £23 billion on our roads to improve journeys. We know that road surfaces are a concern for all road users and that is why we are providing local highway authorities in England with just under £6 billion to help improve the condition of our local highway networks."
No wonder feelings are running so high. In this weekend's Sunday Politics Midlands, I will be joined by the West Midlands Conservative MEP Anthea McIntyre - she lives in Herefordshire which, as we've seen, is at the wrong end of that roads league table. And I will also be joined by the Labour MP for Warwick and Leamington, Matt Western.
And I hope you will join us too in our usual slot - 11:00 on BBC One on Sunday 25 March 2018.