Parents' stories of taking term-time holidays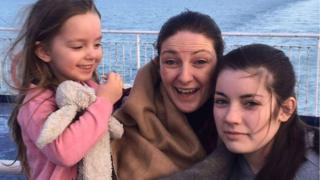 Parents have been getting in touch with their stories of being fined for taking their children on holiday during term time.
Their experiences come after it emerged families have been fined £24m in the last three years for failing to send youngsters to school.
Some families say they actively budget for the cost of fines when planning holidays, while others believe the penalty system is a "mess" which needs an overhaul. Here they share their experiences.
'I have to account for every penny'
"I am a single parent and have two daughters, aged four and 13, at school," says Heather Swain, from Bourne in Lincolnshire.
"I work hard and try to provide my daughters with a good standard of life. For me there is just no choice but to book a holiday in term time.
"I have to account for every penny and if we went during the school holidays it would mean I am unable to provide things such as clothes, days out and birthday parties.
"We went on an unauthorised trip to Disneyland Paris in February last year for a long weekend. The trip cost £752. Out of term time it would have cost £2,500 and we simply could not have gone.
"I don't think the system is fair and I think lack of finances to fund a holiday during out of term time should be considered special circumstances."
'The whole fine thing is a mess'
Jason Batty says he received a fine when he took his son, Daniel - now 14 - out of school during term time.
"He was in year 8 at secondary school, he wasn't due to sit any exams or miss any significant work so we decided to go. We followed the school policy of completing a request form but this was soon declined.
"We went to America, travelled around Florida and visited interesting places like Nasa, museums and race tracks. We met loads of different people who were more than happy to talk about life in America, and we even celebrated Thanksgiving which was fun.
"No school can provide that type of education. Are children going to remember the chemical reactions in booster rockets at Nasa or their science teacher?
"We factored the fine into the cost of the holiday and we still saved hundreds of pounds. We have done this a couple of times now, however my son is now in year 10 and will be starting his GCSE exams so we will not plan any holidays as it is an important time for him.
"The whole fine thing is a mess and it needs serious consideration, if your child regularly attends school and they have no significant exams coming up then you should not have to pay a fine."
Term-time holiday: What are the rules?
Adventures on maternity leave and beyond
The youngsters keeping traditional trades alive
'It is a tax on parents'
"My family is split between Cumbria, Bristol, Devon, Lancashire and Ayrshire in Scotland," says John Reekie from Gosforth, Cumbria. "The school term times are different which leaves one or more of the family groups having to take kids out of school.
"The most recent example of this was us seeking permission to remove our boys, 5 and 7, from primary school so we could go skiing with my brother-in-law's family as it was more important for their daughter doing GCSE exams to be in school than our kids due to their young age.
"The reality of the penalty system is that it either involves families such as ourselves cutting back the number of times in a year that we can get together or us paying fines which, to date, have not been levied as we have made our case where required to the school.
"The fine system is basically a tax on parents who in many cases will do the extra work with their kids to catch up. While I sympathise with teachers, the reality is that there are many more important things in life than missing a day of school.
"We seem to have lost this in our education system and we are the poorer for it."
Responsible parenting?
''Mumsnet users broadly agree that absences are disruptive for teachers and other children. There's a strong consensus that generally speaking, regular school attendance is a core part of being a responsible parent," says the blog's founder and CEO, Justine Roberts.
She believes parents don't want their children to miss out on learning, but they are often left feeling penalised- "and a little victimised" - when holiday costs double, or even triple, the moment term ends.
"What does drive parents crazy is inflexibility when something is genuinely important: a once-in-a-lifetime opportunity, a really significant family event, or occasional off-peak holidays for children with additional needs who can't cope with peak-period crowds and noise.
"Such things require thoughtful discretion, which head teachers are strongly incentivised not to exercise because of the inclusion of absence statistics in Ofsted reports. There's a frustrating lack of nuance in the system, which leads some parents to throw their hands in the air and do what they think is best."