1.5 million tramadol painkillers stolen from lorry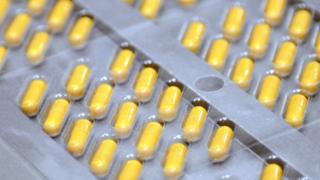 More than 1.5 million powerful prescription painkillers were stolen from a lorry at a service station.
NHS staff were told not to alert the public about the theft of the tramadol tablets, a document obtained by the BBC shows.
Tramadol is a strong painkiller that is potentially addictive and can kill if abused.
West Yorkshire Police (WYP) urged people not to take the stolen drugs.
The 15,072 packs, each containing 100 tablets, were taken from a lorry at a service station on the M62 in West Yorkshire between 22:00 GMT on 6 March and 05:00 on 7 March.
Tramadol is a controlled drug and can only be given to patients who have a prescription.
BBC News has obtained an NHS "alert message" revealing the packs of tablets were stolen from the back of a lorry, parked at the Hartshead Moor motorway service station, in West Yorkshire.
The document states "this information is not to be disclosed to or displayed in view of members of the public and is for the information of NHS members of staff only".
You may also be interested in:
The number of people in England and Wales dying because they have misused tramadol has doubled in the past decade according to official figures.
In 2016 there were 184 recorded deaths involving the painkiller, compared to 81 deaths in 2006.
Ian Hamilton, a lecturer in mental health and addiction studies at the University of York, said the NHS should be alerting the public to the danger of stolen painkillers.
"The theft of such a large quantity of drugs poses an immediate risk to public health," he said.
"In the wrong hands tramadol is a nasty drug and an inexperienced user only need to take a relatively small quantity to create a risk of an overdose."
NHS England in Yorkshire and the Humber did not answer questions about why staff were told not to disclose the theft.
A spokeswoman said: "We are aware of an incident involving the theft of drugs and West Yorkshire Police are currently looking into it. The public are urged to contact the police if they have any information regarding this incident."
West Yorkshire Police (WYP) controlled drugs liaison officer Helen Pipe said: "It is highly likely that this was a targeted theft.
"Although this occurred overnight, this is a busy service station off the motorway and it is possible that someone may have seen this offence taking place.
"If you have been approached by anyone selling these items, contact the police immediately and do not take them."