Aldi worker murder: Man jailed for 30 years for Jodie Willsher killing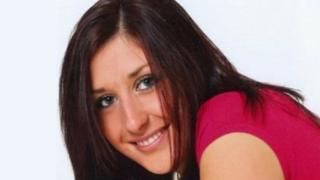 A man who stabbed to death his ex-partner's daughter at an Aldi supermarket has been jailed for at least 30 years.
Neville Hord, 44, pleaded guilty to murdering 30-year-old mother-of-one Jodie Willsher in Skipton, North Yorkshire, four days before Christmas.
Bradford Crown Court heard it was a "cold-blooded public execution" carried out "for the purpose of revenge".
The judge told Hord it was highly probable he would never be released.
Prosecutor Peter Moulson, QC, told the court Hord, who was the ex-partner of Mrs Willsher's mother, Nicole Dinsdale, stabbed the Aldi employee several times before he was restrained.
Read more on this and other Yorkshire stories
'Rotten to the core'
Mrs Willsher died from wounds to her chest and abdomen inflicted during the attack - which was witnessed by horrified Christmas shoppers, including a child.
After his arrest, Hord told police the attack was planned and he had also armed himself with an axe.
Judge Jonathan Durham Hall QC told Hord he was "truly and horribly rotten to the core".
He added: "You chose a time and a place to, in effect, execute, to kill, to murder."
Mr Moulson said Hord, of Great Horton Road, Bradford, told police Mrs Willsher had "made things very difficult" in his relationship with her mother.
He said the defendant admitted putting a tracking device on Mrs Willsher's car and planned the killing for two weeks - buying a pistol crossbow as an "option weapon" and taking the axe as "back-up".
Hord admitted he went to the store to kill Mrs Willsher and told officers he thought she had smiled at him before he stabbed her.
The court heard how a previous partner confirmed Hord threatened to kill her and her young son if she left him.
She said he told her: "I'll chop the pair of you up and bury you on the moors."
Police found the cross-bow in Hord's vehicle in the Aldi car park along with 50 bolts, a large amount of diesel and cable ties.
Sentencing Hord, Judge Jonathan Durham Hall QC said: "You are a monster, Mr Hord."
In a statement read in court, Mrs Willsher's husband Malcolm said his life and that of his daughter, Megan, had been ripped apart.
He said: "I have to explain it to Megan who then says to me 'I hate you daddy for not bringing mummy back. You're not trying hard enough'.
"She then says 'daddy, can't I have a brother or sister any more' or 'won't mummy ever be a granny now?'.
"How do you deal with that?"
He said his wife and daughter had an "unbreakable bond" and described how Megan had been excited about them opening Christmas presents together.
He said the family had planned to leave on a dream trip to Disneyland on Boxing Day - five days after his wife was murdered.
Mr Willsher added: "I'm so scared he'll get out and do something to Megan."
Det Ch Insp Mark Pearson, of the Cleveland and North Yorkshire major investigation team, said: "Neville Hord planned and carried out a horrific attack on Jodie Willsher while she was working in a busy supermarket in the run-up to Christmas.
"His terrible actions have devastated a family, leaving a mother without a daughter, a husband without a wife and a young girl without her mother.
"No sentence could ever compensate for their loss."