Scale of child abuse survey 'needed every 10 years'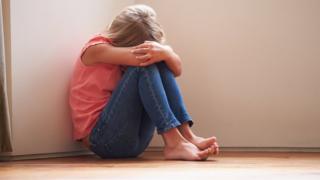 Thousands of children should be surveyed to build a true picture of sexual exploitation, experts have said.
The government says it does not know how many girls have been groomed in the wake of questions about sexual exploitation in Telford.
But the Centre of Expertise for Child Sexual Abuse is designing a survey of children to run every 10 years to assess the scale of the problem.
Authorities raised 18,800 concerns of children at risk in 2016-17.
This was equivalent to 51 every day.
And there were 29,600 assessments of children by social services in England about other sexual abuse because of concerns raised by teachers, social workers and health services.
That works out at 16 assessments of whether children were at risk of child sexual exploitation (CSE) and 25 for sexual abuse for every 10,000 under 18s.
The Centre of Expertise for Child Sexual Abuse, which is working with the government to prevent and tackle abuse, said the data was only a "slice" of the true picture.
The centre, funded by the Home Office and led by charity Barnardo's, has recommended a national prevalence survey be carried out every 10 years.
It is now working with the government, academics and survey experts to design it.
"We know that children don't always recognise that they are being abused and this means that surveys that are framed as abuse or crime often hide this abuse," policy adviser Lisa McCrindle told the BBC.
"We want to capture sexual experiences in childhood and young adulthood so we are likely to include young people in secondary school and up to early twenties."
It is not yet known how much the survey would cost.
The centre warns the existing figures are only the assessments made because someone spotted something that concerned them enough to flag up the child to social services.
There is also no indication of how many children were assessed more than once over the course of the year.
Experts say there is nothing they can rely on to answer the question of prevalence because so many children do not come forward to tell the authorities they are being abused.
Ms McCrindle said: "Administrative data does not provide an understanding of the scale of abuse, it only tells us what services are doing. The data tells us how many assessments have been made; an individual child could be assessed multiple times so it doesn't tell us how many individual children have been assessed."
She said differences in the way social services record concerns means it is "impossible" to say which area has the highest rate of CSE.
Some authorities are recording CSE concerns whenever there is an online element to the potential abuse. Others will only class it as exploitation if there is an element of "exchange", such as the child being offered payment or another incentive.
Scale of abuse
A Sunday Mirror investigation suggested up to 1,000 girls in Telford may have been victims of grooming gangs since the 1980s. However West Mercia Police Supt Tom Harding "significantly disputed" the figures.
Lucy Allan, the Conservative MP for Telford, asked ministers to provide an estimate of the number of girls groomed for sexual exploitation and the number of perpetrators.
Minister for women Victoria Atkins responded: "The Government does not currently hold such figures. We are working to build the national picture of the nature and scale of this sort of abuse.
"We have introduced new requirements for the police to record information relating to these offences which, along with the establishment of a new national Centre of Expertise on Child Sexual Abuse, will help us to build a more informed picture of the scale of these crimes and the best ways to tackle and prevent them in the future."
The Home Office told the BBC the Centre of Expertise on Child Sexual Abuse was working with "relevant experts to develop a more detailed proposal for the form this might take".
A government spokeswoman said: "This government is working to tackle child sexual exploitation, declaring it a national threat and making a significant investment to protect children, support victims, and bring perpetrators to justice.
"Despite challenges in building a national picture of child sexual exploitation, this government is taking action to change our response to this terrible crime, including offering more support to vulnerable people giving evidence.
"The Centre of Expertise on Child Sexual Abuse is also currently piloting an approach to improve the quality and consistency of data relating to child sexual abuse and exploitation. The government has also revised the definition of CSE in legal guidance, and introduced a new requirement on police forces to flag CSE offending, to build a clearer national picture of the problem."
How to report abuse
If you are worried that a child or young person is at risk or is being abused you can contact the children's social care team at their local council. You can choose not to give your details.
You can report it online to the Child Exploitation and Online Protection command (CEOP).
Or you can call the NSPCC 24-hour helpline on 0808 800 5000 for expert advice and support.
If a child is at immediate risk call 999, or call the police on 101 if you think a crime has been committed.
Children and young people can call Childline free on 0800 1111 where trained counsellors are available 24 hours a day, every day.