NHS figures show knife-related hospital admissions rise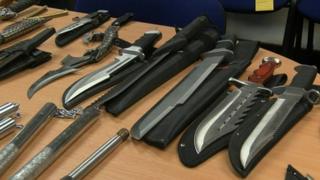 The number of knife-related hospital admissions is at its highest level in England for five years, analysis of figures by the BBC shows.
NHS figures show there were an average of 12 knife assault-related hospital admissions every day in 2016-17.
A consultant at one hospital trust in Yorkshire said it was seeing a knife wound "probably every day or every second day now".
The Home Office has announced £1m funding to help tackle knife crime.
There were 34,700 crimes involving knives in England and Wales in 2016/17, with the number of offences increasing by a third since 2012/13, according to the Home Office.
The number of hospital admissions for knife-related injuries rose by 14% in the same period - from 3,888 in 2012/13 to 4,434 in 2016/17.
However, those figures are below the peak in 2006/07 when 5,720 people were admitted.
The BBC analysis comes as the home secretary is due to meet mayors and police and crime commissioners to discuss knife crime.
Andreas Crede, consultant in emergency medicine at Sheffield Teaching Hospital NHS Foundation Trust, said the problem was escalating, both locally and nationally.
"We are seeing a knife wound probably every day or every second day now in this department," he said.
"It is certainly a concern. It's a concern not only about the number of wounds but also the pattern of injuries that we are seeing in terms of location, where those wounds are and the severity of the injuries."
Figures show police in South Yorkshire recorded 882 knife crime offences between April 2016 and April 2017, a 43% increase on the previous year.
Jarvin Blake, 22, was the latest person in Sheffield to die from a stabbing injury, after being attacked by a group of men.
The father of three died on 8 March and two men have been arrested on suspicion of murder.
Det Supt Una Jennings, from South Yorkshire Police, said education, not just enforcement, was the key to addressing the issue.
"Knife crime can be summed up in two words: men fighting," she said.
"So part of what we have to do to tackle it effectively is really start to educate and make our young men, in particular, thoughtful about the consequences of knife-related criminality, not just for themselves but for their families."
'Blood on the floor'
Jake Lee, 26, from Chesterfield, was stabbed at a takeaway shop in Sheffield in 2016.
"It was early November and I had been out for a drink with friends," he said.
"I walked into a pizza shop and what I remember is that I was punched but I was lifted up and told I was stabbed and looked down and there was blood all over the floor."
Mr Lee, who works for East Midlands Ambulance Service, believes better policing in city centres, improved rehabilitation for offenders and tougher sentences are needed.
The blade entered his side and narrowly missed a kidney, causing him to have three months off work.
Although he is recovering, the attack has had an impact on his life.
"I was in disbelief then and I struggle with it now," he said.
Mr Lee's attacker did not know him or a second man he stabbed in the takeaway and was jailed for four years and three months in January.
The number of under-16s being admitted to hospital for knife-related injuries also reached its highest level for seven years in 2016/17.
Hanif Mohammed, assistant manager of Sheffield-based charity In2change, which aims to prevent young people getting involved in criminal activities, said young people were frequently carrying a knife for protection.
But he said many ended up being stabbed by their own weapon, "so it's obviously a false sense of security'".
'New laws'
"The threat on the street is imminent; they could go home from school and get attacked or go to the shops and get attacked - prison is something they can deal with after," he said.
"I believe that, through education, the realisation of what prison really is could go along way to addressing some of these issues."
A Home Office spokesperson said the £1m funding, announced last week, would help communities deal with the problem.
"We have already consulted on new laws on offensive and dangerous weapons, including banning online stores from delivering knives to residential addresses and making it an offence to possess certain weapons in private," they said.
"But tackling this crime requires a new way of thinking. Our new Serious Violence Strategy, which will be published this spring, will have early intervention measures at its heart and look to shift attitudes and challenge behaviour among those young people who view knife possession as normal and necessary."