Neil Bell: Tributes pour in for BBC South East sports reporter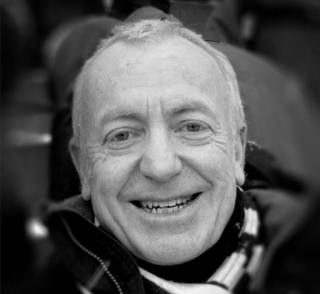 The sports minister has led tributes to BBC South East's sports reporter Neil Bell who has died at the age of 61.
The married father of two young sons died in the early hours of Sunday after a battle with cancer.
Affectionately known as Belly, he had been covering sport across the South East for more than 30 years.
Tracey Crouch, who is also the MP for Chatham and Aylesford, tweeted: "He was a brilliant regional sports journalist and his expertise will be much missed."
BBC South East tweeted: "Neil was a broadcasting legend, a supreme sporting storyteller and a wonderful person. Put simply, Belly was the best."
Quentin Smith, editor of BBC South East Today, added that he was "a class act who won the praise and respect from all who met him".
In a reporter profile on the BBC website, Mr Bell recounted how as a young boy he pursued "a tall, smartly-dressed gentleman with a large nose and two-tone shoes" for an autograph at the St Lawrence cricket ground in Canterbury.
"He was Brian Johnston and he became my favourite cricket commentator," he said.
His "love for sport grew and diversified", until in 1987 he applied for a job as a cricket commentator at Kent County Cricket Club.
"Intrigued I applied and to my astonishment was given the chance to follow and commentate on all Kent games," he said.
It was during that time that he first met BBC Radio Kent's John Warnett, who was also starting out on his broadcasting career.
Speaking on Monday, the breakfast presenter recalled: "None of us had any experience, but we both blagged our way through it.
"After about six months in the job we kept looking at each other and just saying: 'I can't believe someone's paying us to watch cricket.'
"Sometimes we had to go off air because we were in fits of laughter."
He said the "outpouring of love" for him on social media had been "unbelievable".
Scores of tributes and condolences to Mr Bell's family have been paid across the sporting world, with viewers and listeners also sending messages.
Brighton and Hove Albion, Gillingham FC and Crawley Town FC all said they were saddened by the news, while Olympic hockey gold medallist Susannah Townsend said he "always lit up a room and brought a smile to everyone's face".