Southern Water tells Crawley residents to expect loss of supply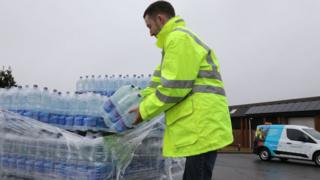 Residents in Crawley, West Sussex, have been told they will have their water supplies deliberately cut off in order to restore supplies for the morning.
Southern Water said customers in the RH10 and RH11 areas would "experience interruption to their supply this evening and overnight".
Up to 25,000 properties across south-east England were without water earlier after thawing frozen mains pipes burst.
More than 100 schools were forced to close across Kent and Sussex.
A Southern Water spokesman said its teams had been out across the region fixing leaks and bursts, and it was "putting as much extra water into the network as we can".
"We're working with local authorities, police and fire services... to make sure we're identifying vulnerable customers and providing bottled water where needed," he added.
Limit water use plea as problems continue
About 13,000 homes without water, or with low water pressure, were supplied by South East Water.
The company supplies Kent, Sussex, Surrey, Hampshire and Berkshire.
At 19:30 GMT it said it was still providing bottled water to Wadhurst, Rotherfield, Crowborough, and Cuckfield.
It said customers in the Charing area should start to see water returning although this would be intermittent.
'Challenging repairs'
Both Southern Water and South East Water have apologised to customers for the disruption and inconvenience.
Some have been without water for more than 24 hours.
South East Water's operations director, Dr Simon Earl, said it was a "challenging and difficult fix to get everything back to normal".
"We've got our best people - over 100 women and men - out there looking for bursts, finding those bursts, and supporting our customers.
"It's unprecedented the level of leaks and bursts we've seen," he said.
Dr Earl asked customers only to use water "for the essentials".
He said: "Where possible, take short showers rather than baths, do not leave taps running unnecessarily and only run washing machines and dishwashers when you have a full load.
"If possible, avoid using appliances at the peak times of 7:00 to 9:00 and 16:00 to 19:00. This will make a real difference."
Supply problems started on Saturday as snow and ice began to melt, affecting the frozen pipes.
On Sunday about 6,000 households in Sussex were without water.