Second hen harrier disappearance 'devastates' RSPB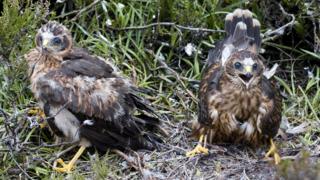 The disappearance of two tagged hen harriers from northern England could threaten the survival of the species, experts say.
Siblings Manu and Marc were fitted with satellite tags after being born in the Scottish Borders last year.
They fledged to northern England, where Manu's tag stopped transmitting in October. Marc's ceased on 5 February.
The RSPB described their disappearance as "absolutely devastating".
Both birds were tagged as part of an EU-funded monitoring programme.
'Vanishing population'
Manu had settled on the Northumberland Cumbria border and Marc near Middleton-in-Teesdale in County Durham.
The latter's tag stopped transmitting over a grouse moor. No damaged tags or remains of the protected birds have been found.
An RSPB spokeswoman said: "If the birds had died naturally, we would expect to continue to receive transmissions from the tags, with the data signal showing the bird was stationary.
"It's absolutely devastating to have both siblings disappear, particularly with the low number of hen harriers in England.
"Not only were we down to a tiny number of successful nests last year, but even those birds moving in to help bolster the population are vanishing."
Durham Police urged anyone with information to contact them.