Historic England in bid to find forgotten memorials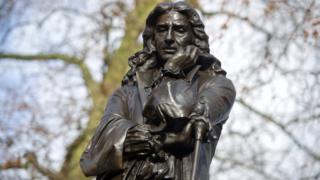 A search has begun to uncover forgotten, secret and little-known memorials across England to explore who is remembered and why.
Historic England wants people to share their knowledge of murals, shrines, and statues for its Immortalised project.
The best examples will be included in an exhibition and some may be given listed status.
It comes as challenges mount over memorials to figures such as slave-trader Edward Colston.
The underrepresentation of women and ethnic minorities in memorial form is also under scrutiny.
The heritage body said it was particularly interested in finding out about communities which have created unofficial memorials.
It is asking for photographs and details about sites such as murals and inscriptions on benches and trees which are well-loved by communities but unknown nationally.
Memorials around the country include one in Southampton to engineers who died on the Titanic, and another to Grace Darling, who famously rescued survivors of a shipwreck near Bamburgh, Northumberland.
In London a mural commemorates the Battle of Cable Street in 1936, while the Women of Steel statue in Sheffield remembers women who took jobs in factories and mills during World Wars One and Two.
Duncan Wilson, chief executive of Historic England, said one of the organisation's most important jobs was to identify and share information about which monuments are embedded in public areas.
"We are creatures of memory and every generation has commemorated people.
"Their stories may involve episodes of heroism or generosity and be inspirational, or they may involve episodes which are shameful by today's standards.
"They all tell us something about the lives of our ancestors. Exploring the stories and histories of less well-known people and groups is an important part of this."