Snow shelves supermarket home deliveries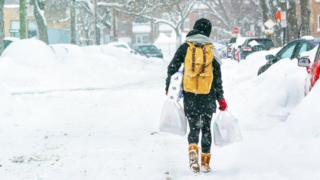 Snow has led supermarkets to shelve their home deliveries across England, sparking anger among some customers but creativity in others.
The so-called Beast from the East, which was followed by Storm Emma, has caused traffic chaos around the country.
Major chains have cancelled deliveries in the worst-hit areas, such as Kent, East Anglia and the North East.
Tesco, Asda and Sainsbury's said they had put driver safety first.
Latest updates as snow and blizzards hit UK
Some customers gave retailers the cold shoulder by tweeting their disappointment, while others found crafty ways to make meals.
Tesco said it would not comment on specific cases but claimed "a small proportion of online orders have been cancelled in badly affected areas".
"We are contacting affected customers so they can reschedule their order or receive a full refund," a spokesman said.
How many people get their food shopping delivered?
About 14% of people did all their grocery shopping online in 2017, according to market analysts Mintel.
This is double the proportion of three years earlier.
Overall about 48% of people do at least some grocery shopping online.
Online shopping accounts for about 6% of the grocery market.
Other supermarkets came under fire for no-show shopping, including Asda and Sainsbury's.
Asda said: "We've prepared well for the 'Beast' and our colleagues are ploughing through wherever they can."
But it said it had to balance the safety of its staff with the needs of its customers and was trying to find alternative slots where it could not deliver.
A Sainsbury's spokesman said the safety of its drivers had to be its priority.
"As we're sure customers can appreciate, we cannot send them out on to dangerous roads," he said.
"Despite the extreme conditions we're working around the clock to get to as many customers as we possibly can and are very sorry to those where we've had no choice but to cancel their delivery."
Lisa Cornwell, 45, from Sleaford, Lincolnshire made her own bread and a lemon drizzle cake when her Tesco delivery was cancelled and her local shop was running low on supplies.
Les Goss, a guitar technician with indie rock band the Pigeon Detectives, hailed a Greggs bakery driver a "legend" after he gave out cakes to drivers in a standstill on the A1.
"We were in Edinburgh trying to get back to Leeds when we we got stuck near Berwick-Upon-Tweed," he said.
"I thought I'd have a walk up the road and I got a couple of miles away and I saw a guy from Greggs on the back of his wagon.
"He said 'do you want some cakes? I'm going to take them this way if you want to take some that way.'
"I thought it was a pretty cool thing to do. He's a legend."
Roisin Currie at Greggs said: "We are incredibly proud of Jon and his act of kindness in what must have been a very tough situation for him and all the other poor people stuck on the A1 in this cold weather.
"We hope that his kind gesture was able to help make everyone's day a little bit better."