A19 crashes: Nineteen-vehicle pile-up leaves all lanes closed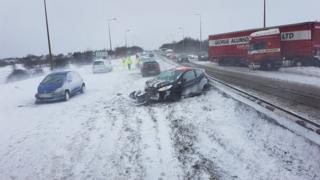 A 19-vehicle pile-up closed one of the main routes through the north-east of England.
Police say 15 vehicles crashed on the A19 northbound near Wingate, Teesside, and four crashed southbound blocking all lanes in both directions.
Durham Police said there had been minor injuries.
One driver, Alex Chandy, said his car had been repeatedly hit and he and his girlfriend were "pretty lucky to come away without serious injuries".
The 19-year-old student from Peterlee said a huge gust of wind had knocked his car.
"I couldn't see a thing - next thing I know we're spinning round and round and we hit the central reservation," he said.
The car behind then hit his, he said.
"That created a domino effect and 14 cars behind us have all crashed," he said.
"As soon as we stopped spinning we thought that was it, then the car slammed into the side of us.
"We just held on to each other, taking the bangs from each car hitting us, hoping for the best."
An eyewitness said a jack-knifed lorry had hit cars, pushing them on to the other side of the road.
There had been 20 separate crashes on a stretch the A19 in an hour, Durham Police said.
It advised drivers not to make non-essential journeys.
On a separate stretch of the A19 in North Tyneside, 12 cars crashed between Moor Farm roundabout and the A1056.
Northumbria Police said no-one had been hurt.