UK weather: Travel hit and schools shut in North East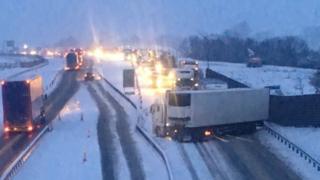 Snow has caused major travel problems in north east England where hundreds of schools have been closed.
Many major roads have been closed at various times with traffic struggling to cope with conditions.
Stretches of the A1 in North Yorkshire and Northumberland were affected at different times.
During the evening rush hour the A19 on Wearside was blocked by stranded HGVs, with reports of drivers reversing back up the road at the A1231 turn off.
Earlier in the day, the southbound A1 near junction 52, between Scotch Corner and Catterick, was closed for several hours after a lorry skidded and jack-knifed.
Further north, the road was also closed when a lorry went down an embankment near Alnwick, following a three-lorry collision.
In County Durham, the A68 was closed for a time after a gritting vehicle slid off the road.
About 700 schools closed across Tyne and Wear, Northumberland and Teesside.
However, one small rural school in County Durham was kept open after a parent who had a digger cleared a path for pupils and staff.
Wearhead School is more than 330m (1,100ft) above sea level and has only closed once in the past 13 years due to the weather.
The children - aged four to 11-years-old - took part in joint snow art classes, went outside to build igloos and snowmen, and then had a maths class.
On Wearside, travel company Stagecoach temporarily returned all its buses to the depot due to icy road conditions and poor visibility.
The firm, along with operator Go North East, later said it was operating buses but they were less frequent and there were route changes.
A further 205 schools have shut in North Yorkshire, and the A61 between Harrogate and Skipton is closed.
The A169 on the North York Moors is "impassable except for 4x4 vehicles" north of RAF Fylingdales, according to North Yorkshire Police.
Harrogate and District NHS Foundation Trust appealed for off-duty nurses to walk to Harrogate Hospital to cover for staff who are unable to travel there.
Northumbria Healthcare NHS Foundation Trust is appealing for anyone with 4x4 to help its staff get to and from work in Northumberland and North Tyneside today and tomorrow.
Snow flurries reached the coast, with poor visibility and difficult driving conditions reported on the A171 between Scarborough and Whitby.
Wind whipping off the North Sea blew down four lampposts, with one hitting a moving car in Whitley Bay, North Tyneside.
Northumbria Police said no-one was injured when it hit the passenger side of the car.
Press Association photographer Owen Humphreys, who was at the scene, said: "I have been out in a lot of severe weather and this is some of the worst I have seen.
"There's been blizzards, thunder, lightning and now wind blowing down lamp posts. The wind really is driving in off the North Sea."