Sussex drugs gang jailed for dealers murder plot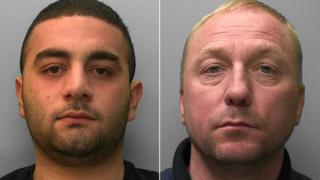 The leaders of a gang who faced drug debts of more than £1m so hired a hitman to try to kill their criminal bosses have been jailed for life.
Leo Ellis, 24, from Hastings, and Jason Caswell, 43, from London, were found guilty of conspiring to murder two men, supplying cocaine and money laundering.
Ellis was also found guilty of supplying heroin at an earlier hearing.
Judge Christine Laing said: "It was frankly chilling how easily and quickly you both turned to murder."
Ellis and Caswell were told they will serve a minimum of 14 years in prison.
Sentencing the pair at Hove Crown Court the judge told them: "You are both part of a serious organised criminal enterprise operating at a very high level.
"It was frankly chilling how easily and quickly you both turned to murder as a way of solving your debt problem."
Increasing drugs debts
Ellis and associate Caswell acted as the main drug dealers supplying cocaine - and in Ellis's case, heroin - across East Sussex and Kent.
Police seized a large amount of drugs and cash over several months in 2015 and 2016, leaving Ellis and Caswell owing their dealers more than £850,000.
The National Crime Agency said in total class A drugs worth an estimated £1.4m and £100,000 in cash had been seized from the gang.
Their inability to repay their debts was worsened by further seizures of more than £92,000 in cash and 2kg (4.4lb) of cocaine.
In conversations monitored by police, Ellis said he had acquired guns and ammunition from Eastern Europe. and planned to recruit someone to carry out the killings of their suppliers.
A sub-machine gun, capable of firing up to 900 rounds per minute was found by police in March 2016.
Five other men have also been sentenced for their parts in the murder plot and drugs ring.
Jamie Peter Winchester, 25, of Sandy Close, St Leonards, was sentenced to seven years for supplying the automatic sub-machine gun, and three years for possessing ammunition.
John Gardner, 41, of Egerton Road, Bexhill, was jailed for six years for two offences of conspiracy to supply heroin and nine years for conspiracy to supply cocaine.
Scott Gardner, 40, of Bexhill Road, St Leonards, was sentenced to 12 months having pleaded guilty to money laundering before the start of the trial.
Wesley Long, 40, of Harold Road, Hastings, was jailed for three years having admitted conspiracy to supply cocaine, again before the trial.
Simon Grant, 45, of Sherriff Road, London, had earlier pleaded guilty to possession of cannabis with intent to supply and was sentenced to five months suspended for 18 months.
James Dunham, 37, of Roundhouse Cresent, Peacehaven, did not appear at court and will be sentenced at a later date for conspiracy to supply cocaine.
Anthony Hearn was sentenced in July 2016 to 11 years in prison after admitting possessing the sub-machine gun.
In separate cases in 2015 and 2016, seven other people were sentenced for drugs offences as a result of the same police investigation.
Det Ch Insp Andy Bennett said: "This operation has been a significant and extremely complex investigation into drug dealing and money laundering by Ellis in Sussex and Caswell in Kent.
"Both Ellis and Caswell had autonomy over the drugs supply in their home areas and both became equally indebted to their suppliers.
"Leo Ellis's dwindling position within the drugs ring became clear to us as we learned from our investigation of his now huge debts and inability or unwillingness to repay them despite pressure to do so."