Special constables fall by a third in England and Wales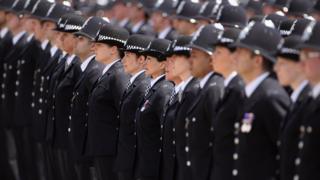 The number of volunteer police officers across England and Wales has fallen by a third in five years, figures show.
In total, 43 forces had 6,558 fewer "specials" in September 2017 than in 2012.
Ian Miller, chairman of the Association of Special Constabulary Officers (ASCO), said volunteers who joined the regular service had not been replaced.
Police forces said although there were fewer officers they were "out and about" more.
The fall in the number of specials has come alongside a drop of nearly 20,000 regular officers in England and Wales between 2010 and 2017, a fall of 14%.
Mr Miller said the "shrinking number" of specials was "a real concern".
'Over-worked'
He added: "Recruitment departments don't have the resources to recruit new special constables at the same time (as regulars) and so recruitment slows down dramatically or stops completely."
The ASCO wanted a standard scheme for recruiting and using specials, amid concerns forces rely on "over-worked" regular officers, "who struggle to understand how to lead and motivate volunteers", Mr Miller said.
Analysis of official data by the BBC shows:
In September 2012, 19,159 specials were serving in the 43 police forces across England and Wales (excluding the British Transport Police)
By September 2017 this number had fallen 34% to 12,601
Overall 35 out of the 43 forces had fewer specials
The biggest percentage fall between 2012 and 2017 was at West Midlands Police, which has seen the number of specials drop by two thirds. Merseyside lost a similar proportion.
Eight forces had more special officers in 2017 than in 2012, including North Wales which had 43% more, West Mercia with 27% more and Lancashire with 24% more.
'System wasn't working'
A former special at Thames Valley Police, who asked to remain anonymous, said they left partly because of a "new system" introduced in 2013, which saw the specials managed more like regular officers.
The officer said specials were not given the opportunity to "use their initiative" as they were partnered with regular officers who would take the lead, leaving the volunteer feeling like they were unable to do the job "on their own".
They added making specials operate on a regular officer's shift pattern "didn't work" as they often had day jobs and were unable to work night shifts.
Supt Rebecca Mears said Thames Valley's volunteer officers were "trained and developed" in a similar way to regular constables but "taking into account their day jobs".
She said training was provided outside regular hours and online to bring specials up to a standard they were able to patrol "independently and safely".
A "tutor" system was used for both paid and unpaid officers, she added.
---
Special constables: Facts and history
Special constables are unpaid volunteers who have full police powers, uniforms and equipment
Expenses are paid for volunteers, and loss of earnings should the officer be injured and unable to work
The National Police Chiefs Council estimated in 2017 the cost of the Special Constabulary was just over £10m but the value of the service provided was more than £100m
Members of the public have been offering unpaid assistance in enforcing the law since the 9th Century
In 1673 King Charles II ruled citizens could be temporarily sworn in during times of public disorder and people faced prison if they refused
Further laws were passed in 1831 which formed the basis of the modern Special Constabulary
Women were not able to join the constabulary until 1949
The College of Policing said historically most forces expected members to perform about four hours of duty per week but there was currently no mandatory figure
---
A Home Office spokesman said "a significant number" of recent police officer recruits had come from within the Special Constabulary, but other reasons for the reduction "would vary between forces".
"Decisions on the size, composition and deployment of a police force's workforce are for individual chief officers and police and crime commissioners," he added.
A spokeswoman for the Metropolitan Police said the force "invested significantly" in its special constabulary recruitment programme ahead of the London 2012 Olympic and Paralympic Games. She said numbers had fallen due to the "natural life cycle of volunteers" and many joining the regular service.
Despite this, the Metropolitan Police lost nearly 2% of regular officers alongside a fall of 52% of the force's special constables.
'Changing circumstances'
Insp John Sacker from Merseyside Police said although the force now had 225 volunteer officers, 97% were "out and about" doing "meaningful roles" compared with the past when the force "had higher numbers of people who were less operational and did fewer hours".
The head of Special Constabulary at West Midlands Police, Mike Rogers, said some specials left because their personal circumstances changed but added: "As a force we are less tolerant of people who don't treat the role seriously.
"We need professional, committed specials. A planned operation could be jeopardised if a number of specials don't turn up for duty because it's raining or football is on the TV.
"We now have a very talented mix of people in our special constabulary, including pilots, NHS staff, a firefighter, factory staff and lawyers and we have a good mix of diversity within our ranks," he said.
Surrey Police said its Special Constabulary underwent a "significant transformation" in 2013, and numbers had remained "constant" for the past three years.