Deepcut recruit Sean Benton 'just wanted army career'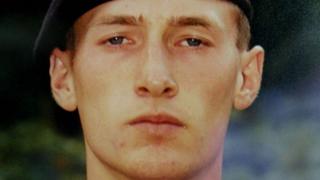 A young Army recruit who was found dead at Deepcut barracks in Surrey said he could not accept being discharged.
Pte Sean Benton, 20, of Hastings, was the first of four recruits to die at the barracks between 1995 and 2002. He had five bullet wounds to his chest.
Former Troop Sgt Gaynor Peploe said she was not aware of bullying and 'beasting' taking place at Deepcut.
She was one of the people Pte Benton thanked in a note found after his death, an inquest has been told.
The note signed by Pte Benton, which was read out at Woking Coroner's Court, said: "I am sorry for what I'm doing but I just can't accept being discharged.
"I just want a career in the army. I know it's my fault for things I done wrong but if I'd got a week's leave I could have calmed down instead of building problems up and bursting into flames."
Former Cpl Martin Barrow, who arranged trainees' inductions at Deepcut, said Pte Benton had emotional problems.
He said he was self-harming and getting psychiatric assessment, but he said there was a "lack of empathy" for him.
Mr Barrow also said Pte Benton's commanding officer, Sgt Andrew Gavaghan had a "unique management style" which prompted "fear" among recruits.
He said he had witnessed him losing his temper and being physically violent in the office, kicking over bins and throwing paperwork around.
The barrister representing Pte Benton's family asked him: "If the person causing problems is your sergeant, it's not a realistic route for raising a welfare concern is it?"
"No", replied Mr Barrow.
Former regimental police officer Alexander Campbell told the inquest he had been informed by Pte Benton's squadron he should not carry arms, and so was surprised when Sean turned up one evening a fortnight before his death for guard duty.
He said when he referred it up he was told it was down to a shortage of manpower.
"It was not up to me to decide who came on guard or not," he told the inquest.
He said Pte Benton was generally known as a "problem child".
The inquest, which is taking place without a jury, continues.
---
The Deepcut Four
20-year-old Pte Sean Benton, from Hastings, was the first to be found dead in June 1995

18-year-old Pte Cheryl James, from Llangollen was found with a bullet wound to her forehead in November 1995

17-year-old Pte Geoff Gray, from Seaham, was found with two gunshot wounds to his head in 2001

17-year-old Pte James Collinson, from Perth, was found with a single gunshot wound through his chin while on guard duty in 2002