Father denies shaking baby son to death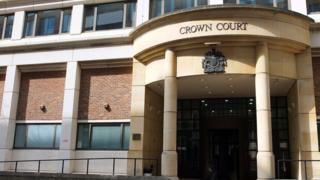 A father who is accused of shaking his baby to death claimed the boy died after falling out of his baby bouncer, a court has heard.
Paramedics tried to save six-week-old Alejandro Rubim, but he died of "serious head and eye injuries" consistent with "a shaken baby", Blackfriars Crown Court heard.
Pedro Rubim, 43, had told his partner and police Alejandro fell out while he was making his bottle.
He denies manslaughter.
'Rolled off'
In an account repeated to medics and emergency services, Mr Rubim claimed Alejandro "rolled off" the bouncer on the sofa at the family home in Hampstead, north-west London, while he left him unattended for about 45 seconds on the morning of 20 February.
The baby's mother and Mr Rubin's partner of five years, Maribel Rodriguez, 40, was at the dentist's at the time.
But prosecutor Sally O'Neill QC said: "This is not a case of a 45-day-old baby falling accidentally out of a baby bouncer, even if not restrained by the straps in the bouncer."
'Deeply upset'
That, Ms O'Neill said, "simply could not have happened" and added Mr Rubim "for whatever reason, shook his small baby son with sufficient force to cause those serious and ultimately fatal injuries to him and did so at the very least with the intention of causing some harm to him".
When he was arrested, Mr Rubim, who is Portuguese, told police he was "deeply upset and in shock about this terrible accident" as he loved Alejandro very much, the court heard.
Mr Rubim lives in Enfield, north London. The trial continues.